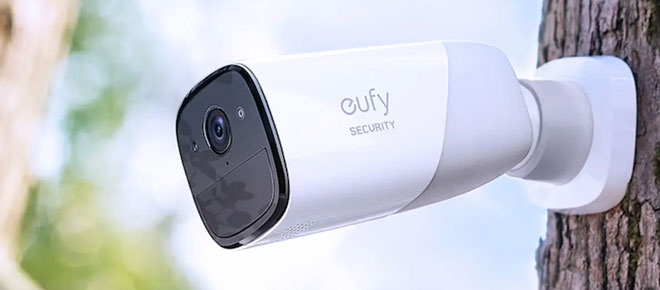 Eufy's cameras let you get a clear view of your home. They also have a variety of features, like cloud storage.
The company's eufyCam 2 Pro models feature 365-day battery life and are HomeKit compatible. They're also rated IP67, weatherproof, and have advanced night vision.
Each camera connects to a HomeBase hub wirelessly and stores video on it. You can access the footage on the app and use voice commands to call up a feed on your bright display.
eufyCam Home Base
The eufyCam Home Base is the brain behind the system and the central piece that makes the whole thing work. It has a simple, white design that shouldn't draw too much attention and should blend in with most home design schemes. It can also be connected to other Eufy security devices, including a video doorbell and entry sensor. This is a great way to add some extra smarts to your home and start with Eufy's expanding ecosystem of products.
What's interesting about the Home Base is that it doesn't rely on cloud recording to store your videos, which means no monthly fees are required. All footage is recorded locally on a 16GB built-in storage chip and can be expanded to 16TB using external storage devices. The Home Base also does all of the video processing and uses a self-learning AI called BionicMind to recognize people, parcels, vehicles, pets, and other objects.
Like other eufy cameras, the Home Base can record in 1080p resolution with night vision support and send notifications for motion and sound detection. It also has two-way audio, so you can communicate with anyone who enters your door from the comfort of your couch.
The Home Base also offers a few other useful features, such as Wi-Fi repeater mode. This boosts your Wi-Fi signal in hard-to-reach areas of your home and can help ensure your cameras have a solid connection to your network. This is especially important if you live in a rural area or are concerned about the reliability of your internet service. It's easy to set up and connect the Home Base to your existing cameras with the Eufy app. Once you've paired your devices, the setup is as simple as pressing the sync button on each camera when prompted by the app.
eufyCam Pro
Eufy is a new player in the smart home security space, but it's already making a dent in the market with a complete suite of products that rival the likes of Nest and Arlo, all at much lower prices. One of the company's flagship products is the eufyCam Pro, which delivers an impressive package of features at a very affordable price without requiring a subscription.
Eufy is the go-to destination for affordable EufyCam accessories. Whether you're looking for additional mounts, skins, or batteries, the Eufy Promo Code covers you. With a wide variety of products, you can rest assured that you'll find the perfect accessory to suit your needs and budget. Plus, with our exclusive promo codes, you can save even more on your purchase.
This camera uses a motion sensor to detect activity around the home, and it can alert you when something is going on. It has a 140-degree field of view, so you can see the entire area that needs to be monitored. It also includes night mode and innovative image enhancement to capture clear footage of what is happening.
The camera is IP67 weatherproof, so you can use it outdoors and indoors. It's also rated to work with Apple's HomeKit, so you can access the feed from your iPhone and watch it on your TV. It can also connect to Alexa and Google Assistant, allowing you to control the device using your voice.
The eufyCam Pro has a built-in floodlight that illuminates the area around the movement sensed by the motion sensor and can record a 2K video signal. The camera also features intelligent image enhancement, which allows the camera to detect and focus on humans. Its battery can last up to a year without charge, and the system can record over 30 days of footage on its internal storage. It also supports RTSP, so you can store your recordings on a NAS or other network-attached storage. Eufy also offers a paid cloud subscription to keep up to 10GB of footage for an additional fee.
eufyCam 2 Pro
Eufy has been selling outdoor security cameras for a few years, and the eufyCam 2 Pro takes it up a notch with excellent video quality and some extra features. For example, it can detect motion and trigger a loud alarm that deters thieves. The camera also has a good range of detection zones and can be adjusted by moving the lens. It comes in a bullet form factor and is easy to install.
The eufyCam 2 Pro works with Apple HomeKit, so you can integrate it with your other smart devices and services. It also has a decent battery life and supports night vision. However, it doesn't have a 2-factor authentication option in most countries, which is a significant downside. Other security cameras, such as the Arlo Pro 3, are better.
You can use your iPhone or iPad to watch live footage of the eufyCam 2 with the free eufyHome app. The app displays a single image from each camera, allowing you to playback the last few minutes of video. You can also customize the settings of each camera, such as recording quality and privacy zones.
Electronics Coupon Code offers a range of budget-friendly security systems for your home or business. From primary cameras to full-featured surveillance systems, you can find the right solution to fit your needs and budget. Don't compromise safety - choose Electronics Coupon Code for reliable and affordable security options.
eufyCam 2 Pro cameras have built-in image enhancement technology that focuses on people and reduces background noise. You can also receive instant mobile alerts when motion is detected. You can also define activity zones to focus on where you want to receive notifications.
The eufyCam 2C Pro is a one-camera package for about $150, or a two-pack with the eufyHomeBase 2. The HomeBase connects to your router and serves as the hub for your security system. It stores footage and can control connected devices like the eufyHome Doorbell Dual or eufySmartLight.
eufyCam 2
The eufyCam 2 is the top pick for budget-minded buyers who need a weatherproof outdoor camera. This camera features a high-definition image and supports many smart home ecosystems. It has a built-in solar panel to power the camera during the day. It also has a rechargeable battery for backup power. You can control the camera from the Eufy app or tablet or use voice commands with the EufyCam app.
Like other eufy security cameras, the eufyCam 2 connects to your home Wi-Fi network via a hub that is separate from the camera itself. The eufyCam 2 hub is called the HomeBase, and it is about 5 inches tall and has a 3.5-inch x 3.5-inch footprint. It houses 16 GB of local storage for recording video events, which sets it apart from Arlo cameras, which require you to pay a monthly subscription fee for cloud storage.
eufyCam 2 cameras feature an easy-to-use app with tabs for monitoring live streaming, recordings, settings, and more. The app allows you to customize the alerts you receive to get notifications when important things happen. The camera also has a variety of modes that let you customize how the camera records. These include motion sensitivity zones, instant mobile alerts, and intelligent image enhancement.
Another great feature of eufyCam 2 cameras is that they work wirelessly without cords. This makes it easier to mount them in locations that aren't practical or possible with traditional cameras. You can even mount them in a tree or on a pole. One thing to remember is that the eufyCam 2 doesn't have an option for restricting alerts to people only during nighttime, which means you could get notifications for cars driving down your street.
eufyCam 3
If you're looking for a camera that can monitor your home or business and protect it from intruders, the eufyCam 3 is an excellent choice. It has a 4K resolution, which means you can see in great detail what's happening in the area it's covering. This security camera also has a wide field of view, which reduces blind spots. Moreover, the camera has a built-in solar panel that extends its year-long battery life and adds local processing, so you get an alert when it detects an intruder.
If that isn't enough, the eufyCam features two-way audio and an anti-theft 100dB siren. With a hard drive, you can also upgrade its internal storage to up to 16TB. The camera is easy to install and comes with a mount, so you don't have to drill into your walls or ceiling.
The eufyCam has an integrated solar panel that requires only 2 hours of sunlight for Forever Power and a 13,000mAh battery for back-to-back 120-second clips with small gaps. Additionally, it has a night mode that turns black-and-white footage into color and a video lamp for illumination. You can also control the camera remotely with voice activation, use it as a baby monitor, and set activity zones to avoid false alarms. The eufyCam is powered by BionicMind AI and provides facial recognition that differentiates between family and strangers, while self-learning technology prevents false alarms.
The eufyCam is a good option for a low-maintenance camera without a subscription. It can last a year without charging, but you'll have to set it up twice a year if you use it a lot. You can change the recording length in the app's Power Manager and choose the sensitivity level for motion detection.
Conclusion
Adding accessories to your EufyCam security system can greatly enhance its functionality and effectiveness. Various options are available from solar panels to magnetic mounts to suit your needs. By investing in the best EufyCam accessories, you can ensure the safety and security of your home or business.