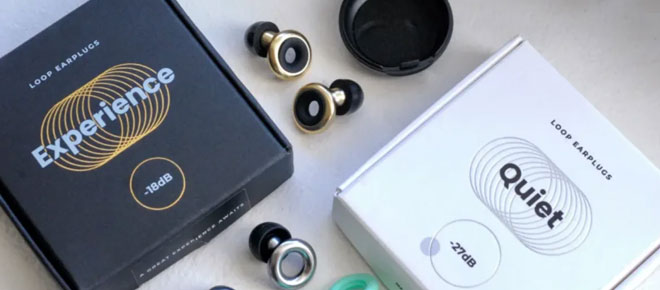 When it comes to earplugs, the thought of sticking something foreign into your ears is generally not appealing. But Belgian company Loop aims to change that with sleek, stylish plugs that offer noise reduction without ruining your music.
Its Engage earplugs are great for enjoying live performances and focus tasks, while its Quiet plugs reduce noise by 27 decibels--a shade under what most users report feels comfortable.
Sound
Unlike other earplugs that plug your ears and drown out noise, Loop focuses on preserving sound quality. Its earplug models—the Quiet and Experience Pro—feature a hollow channel that imitates the function of your ear canal. Then, the sound waves pass through an acoustic filter that reduces volume evenly across frequencies. This ensures that you can still hear your favorite music at a comfortable level, and it means you won't have trouble distinguishing between instruments and vocals.
The earplugs are also hypoallergenic and non-irritating, so they're a good choice for people with sensitive ears or who have trouble sleeping with regular earplugs. You can expect to get a full night's sleep, and the earplugs will block out distracting noises like street sounds, conversations, and even your heartbeat. They'll help you stay focused at work or school and manage anxiety in noisy or chaotic spaces.
Another benefit is that compared to the bright orange pieces of foam you're used to, Loop earplugs look more stylish. They're small enough to slide in and out of your ear, so they won't interfere with the way you dress. And because they're shaped like Klingon jewelry, they'll hide behind your hair or earlobes so no one knows you're wearing them.
You can wear them during activities like concerts, sports events, or meetings at work to lower the volume and improve your focus. The company has a range of colorful options to choose from so you can find the style that suits you best. The earplugs' ergonomic design helps them stay recessed in the ear canal and don't feel awkward during rigorous movements, such as dancing or working out.
In addition to the earplugs, you'll also receive a travel case and extra ear tips, so you can use them in different environments. And because they're washable, you can keep them clean and free of earwax. This will ensure that your earplugs are as comfortable and effective as possible over time.
Comfort
If you work in an open-plan office or frequent noisy coffee shops, earplugs are your secret superpower. They muffle distracting noise so you can focus on your work or study. They're also great for getting some much-needed rest if you have a hard time sleeping due to city noise, pesky neighbors, or anything else keeping you awake at night.
Earplugs are a bit of a learning curve, but the process of inserting and twisting to secure them is pretty straightforward. The key to making a good seal is positioning the loop over your ear canal — you can tell if it's in the right place if you can feel a slight pressure against the outside of your ear.
Once you have the position down, the plugs can simply slide into your ear canal and twist to secure in the concha (the outermost part of the ear canal). They're relatively lightweight and fit comfortably in your ears, especially after you get used to wearing them.
The Quiet model reduces sound significantly without affecting the quality of music, voices, or other ambient noise. It's the most comfortable reusable earplug for sleep that I've tested and is the best choice for those with a need for significant noise reduction or who have problems focusing in loud environments.
Loop's Experience and Engage models are designed for enjoying music with reduced volume, thanks to a new acoustic channel and filter that functions the same way your ear canal does but lowers sound by 18 decibels without sacrificing clarity or music quality. They're excellent for concerts and festivals, motorcycling, and general noise sensitivity.
Both models come with removable silicone ear tips in four sizes to ensure a snug fit, and the Experience Plus add-on adds a set of thermo-shaping memory foam ear tips for an even more custom fit. They're easy to clean, reusable, and available in several colors. You can even purchase a matching carrying pouch for your earplugs to keep them in. When you're ready to buy these earplugs, be sure to look for the latest Loop Earplugs Vouchers to save on your order and make the most of these customizable and convenient features.
Design
Unlike the bright orange pieces of foam that stick out of your ears, Loop's sleek, torus-shaped body blends in with your ear. They look more like Klingon jewelry than hearing protection and feature an eponymous circular loop that's not just for style but also holds the plugs snugly between your antitragus and concha. That means they're less likely to fall out and easier to find if you do drop them.
Each ear plug contains a 3D-printed acoustic channel that mimics the function of your ear canal and, at the end of it, an acoustic filter that reduces sound by 20 decibels without affecting music quality. That way, you can listen to music at normal volume but won't risk damaging your eardrums, and you won't miss out on any of the action at a concert or club.
The company uses a range of different sizes of silicone ear tips to ensure that you can get the most comfortable fit. They're small enough to be easy to store and clean, and they come with a tiny case to keep them in. You can also buy replacement tips in a variety of sizes to change them as needed.
Other earplugs tend to focus on drowning out loud noises as effectively as possible, but that approach can make them uncomfortable for many users. They can also be hard to use when you need to hear something, such as warning sounds or a live music performance. Loop has designed its products to balance comfort and sound quality, and its latest earplugs, Quiet and Engage, are no exception.
These earplugs block out ambient sound but still allow you to hear speech and other audio, making them ideal for work, study, or play. They're also designed to fit comfortably in the ear, and their flexible silicone construction means that they can be adjusted for optimal fit and comfort.
The Quiet and Experience models both feature a low-profile design that's comfortable to wear for long periods, and they're available in a range of colors. For added versatility, the Engage Plus model includes an add-on called Mute that lets you boost the earplugs' noise reduction by 5 decibels on demand. When you're interested in purchasing these earplugs, don't forget to search for the latest Accessories Voucher to save on your order and enjoy the features they provide.
Value
Despite their sleek look and comfortable fit, Loop earplugs come at a surprisingly affordable price. You can pick up a set of three for $30.
That makes them a great choice for anyone who needs to protect their hearing from loud noises, including concerts and other music events, or who wants to block out the chatter in restaurants or on airplanes. They also make a good choice for those who suffer from noise sensitivity, tinnitus, or other hearing loss conditions.
They're also a good value for those who are interested in protecting their ears from potential damage from extended exposure to sounds over 80 dB, which can be dangerous for some activities, such as riding a motorcycle or using power tools. The company offers a range of add-ons to suit specific situations, too, such as Loop Mutes which offer 5 dB of additional coverage for Experience and Quiet earplugs.
In my testing, Loop earplugs did a pretty good job of preserving the fidelity of environmental sounds and blocking out background noise, though it wasn't quite as effective as some other reusable earplugs I've tried. The Quiet earplugs, in particular, did a good job of reducing the volume without making it hard to understand people's voices or hear a TV show or movie.
The hoop section on each earplug may look more like fashion jewelry than hearing protection, but it does serve its purpose, as it creates a barrier for sound waves that is the same length as the ear canal. The sound waves then have to pass through an acoustic filter that reduces the volume evenly.
Both Quiet and Experience earplugs feature removable silicon tips in four sizes to ensure a comfortable fit, while the Experience Plus model has a thermo-shaping memory foam option that adapts to the ear canal for an even more personalized solution. The earplugs are also very durable, with a plastic finish that holds up well to repeated use. They're easy to maintain, too: Simply wipe them down after each use. They're also easy to carry, with a little pleather zip-up pouch that's handy for throwing in your bag or purse.
Conclusion
Loop Earplugs are worth considering for anyone who wants to protect their hearing while still enjoying music and other loud events. With their innovative design and high-quality construction, these earplugs are a great investment for anyone who cares about their auditory health.