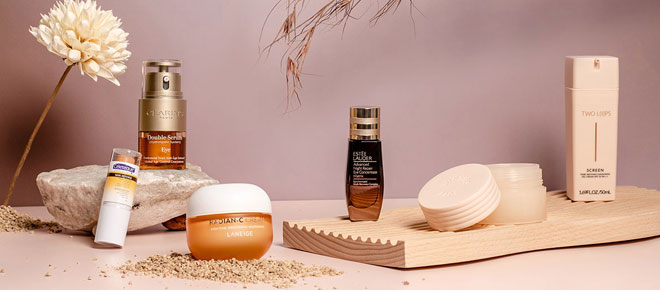 Stock up on these wellness gifts to help your friends and family maintain a healthy and balanced routine. From a luxe skincare tool to an essential oil diffuser, these items are sure to please!
Whether you're shopping for yourself or a loved one, Sephora's Clean at Sephora seal helps you find products that are as good for you as they are for the planet.
Dermaflash Sonic Extractor
Unlike traditional in-office dermaplaning, where dermatologists and aestheticians use scalpels to slough off the outermost layer of dead skin cells and facial hair for smoother, clearer, younger-looking complexions, this at-home tool allows you to do the same with a simple device that's designed to be used with a cleanser. Powered by sonic technology, the sleekly designed, silicone-handled Dermaflash tool is engineered to gently and effectively remove peach fuzz and vellus hair (aka fine eyebrow hair) without scratching or irritating the skin.
The Dermaflash also helps to physically open pores so that you can more easily extract blackheads and pore-clogging dirt. Plus, it pushes serums and moisturizers more deeply into the skin, ensuring better absorption.
For best results, dermaplane the face at least once a week to keep skin looking and feeling fresh and smooth. The Dermaflash is available to purchase at Sephora and Larizia, and replacement edge blades can be purchased separately on the brand's website.
GloPRO Microneedling Tool
For a facial tool that will boost the effectiveness of your skincare routine, this patented and award-winning microneedling device is the one to try. It promotes natural skin regeneration by creating tiny channels within the first layer of your complexion, allowing serums and treatments to absorb deeper instead of just sitting on top of the surface. It also comes with a red LED light that encourages cell growth and blood circulation.
The GloPRO is recommended to be used three times a week, after cleansing and exfoliating the face. Its replaceable derma roller head contains hundreds of tiny stainless steel needles to help gently injure the uppermost layer of your complexion and trigger your body's collagen-making response. This is said to help smooth out fine lines and wrinkles for firmer, younger-looking skin while boosting your complexion's tone, radiance, and texture.
The brand claims that performing this treatment for just a minute a day will give you a more radiant and youthful appearance. It's a great alternative to a professional microneedling procedure, which can be costly and potentially damaging. However, our research found that there isn't much peer-reviewed evidence on the effects of at-home microneedling. Despite this, we recommend this beauty tool from BeautyBio to anyone who wants a better-looking complexion.
Sephora Collection Clean at Sephora
With a reputation for high-quality makeup and skincare, Sephora knows a thing or two about beauty products. The retailer is a go-to for beauty buffs, and their loyalty program offers perks like exclusive discounts and events. The store also releases curated sets that focus on good-for-you "clean" products every year. The focus of this year's Clean at Sephora bundle is essential skincare products.
Sephora also made an effort to up its clean offerings this year, bolstering its selection of products and working with brands like Kosas and Tower28 to reformulate according to their clean standards. The company also launched a Clean at Sephora seal and a separate label called Clean and Planet Positive, which marks products that are formulated without harmful chemicals and feature eco-friendly packaging.
It's worth mentioning that Sephora has its list of "no-no" ingredients, including phthalates, formaldehyde and parabens. But the truth is, that many cosmetics on the market contain ingredients that are deemed unsafe by health advocates. That's why it's important to do your research and make the best decisions for your skin. That said, I'm glad that Sephora has taken steps to promote the importance of clean beauty and offer more options for customers who are interested in making the switch. If you want the best beauty and wellness accessories use, Allovercoupon offers a wide range of beauty and wellness accessories that can help you look and feel your best at an affordable price.
Juna CBD & Wellness Collection
Juna is redefining wellness with plant-powered CBD formulas to optimize mind, body, mood, and sleep for the women who manage it all. Founded by serial entrepreneur Jewel Zimmer who is also a fine-dining pastry chef, and a certified sommelier and launched her first functional food brand Cocoa Absolute at Barneys New York in 2009, she believes in blurring the lines between medicine, food, and beauty with the power of raw cacao.
Her newest creations are targeted at the pain and stress caused by PMS, endometriosis, menstrual cramps, as well as anxiety and tension from sensory and schedule overload. Unlike most CBD products on the market that have been extracted from industrial hemp, Juna's drops are made from single-origin cannabis with a focus on harvesting and processing with traditional methods to ensure premium full-spectrum ingredients with over 80 identified botanical actives and phytonutrients.
The company's main offerings are the Mood and Sleep Drops, with each containing different combinations of CBD and THC. Using a clear labeling system, the brand discloses the exact percentage of THC and CBD on every product. The Mood CBD tinctures are specially formulated with a 1:1 ratio of CBG to CBD to help reduce the symptoms of anxiety and depression while the Sleep Drops contain a combination of full-spectrum CBD, calming chamomile, passionflower, and mint extracts to aid in restful sleep and prolong stage 3 sleep when your body, skin and brain repair themselves.
Susanne Kaufmann Face Roller
Adding a face roller to your routine could be the beauty upgrade you need. The calming massager is loved for its ability to boost circulation, rid the skin of toxins, and smooth wrinkles in seconds while reducing puffiness and improving elasticity. Susanne Kaufmann's superior version is made from hand-cut black obsidian stone traditionally believed to relieve muscle inflammation and aid Vitamin C and D absorption, plus The luxe handle is carved from fine nut wood. It also comes with a leather and satin pouch for easy slippage into your tote or suitcase, so you can fit in a facial session even while on the go.
Alternatively, try Herbivore Botanicals' rose quartz roller, a skincare tool designed to calm the mind, body, and soul. Corresponding to the heart chakra, it helps ease anxiety, calm puffiness and refine skin. It's also believed to improve elasticity, boost radiance, and help products absorb more effectively.
Another must-have is Hatch's smart sleep assistant, which doubles as a sound machine, alarm clock, reading light, and meditation app to create the perfect nighttime ritual. For a quick face-lift, the Vogue Verified ReFa Carat Ray Face is another editor favorite that stimulates the muscles in five to 20-minute sessions to lift and tone. For the best beauty and wellness accessories at affordable prices use health and beauty discount codes and save a lot of money.
TheraBody TheraFace Pro
Having seen many facial devices come and go, I have to say that the TheraFace Pro is the new platinum standard. The first of its kind, it combines percussive therapy for the face (similar to TheraBody's popular Theragun massage gun), skin-toning microcurrent technology, and rejuvenating LED light. Regular use purportedly boosts elasticity reduces fine lines and wrinkles, increases collagen production, improves face contours, and deep cleanses.
In addition to a face percussive treatment, there is also a cleansing ring that enhances the removal of dirt, oil, and other pore-blocking debris with any cleanser of your choice (just avoid products that contain microbeads). The device is powered by two buttons—one for the ring and one for the percussive—that each house three different settings for the respective tools.
You can easily swap out all six attachments—and the hot and cold ring—to suit your needs, as they connect via magnets. There is even a timer that dings every 15 seconds so you can track and keep up with your treatment routine and an OLED display that displays the selected tool settings. Plus, the entire device comes with a storage case and accessories pouch. It's not inexpensive, but it is worth the investment if you want to add an extra level of radiance and tightness to your skin and muscles.
URPOWER Essential Oil Diffuser
Essential oils are no longer just a trendy beauty product, they've become an integral component of our lives. These organic compounds can help with everything from calming you before sleep to reenergizing you in the morning.
This upgraded version of URPOWER's essential oil diffuser is not only sleek and compact, but it also features a safe auto shut-off and a night light function. Using ultrasonic technology, this diffuser vaporizes water and essential oil to produce a soothing fragrance that fills the room for up to 6 hours.
Unlike other diffusers that can be loud and annoying, this device is whisper-quiet so you can use it in the bedroom or a nursery without disturbing your baby. It also has seven different colors that you can switch between as well as a programmable on/off cycle and a night light option so you can set it to automatically shut off at a time of your choosing.
Moreover, the diffuser's anti-microbial properties can fight off colds and flu by confronting airborne pathogens before they enter your body. Simply add a few drops of your favorite oil (try lavender for relaxation or peppermint for an energy boost) and you're good to go.
Conclusion
There are a wide variety of beauty and wellness accessories available on the market today. From skincare tools to fitness gear, there is something for everyone. At Allovercoupon, you can find some of the best deals and discounts on these products. Whether you're looking to revamp your beauty routine or enhance your wellness journey, these accessories are worth trying. Don't miss out on the opportunity to treat yourself to some self-care and indulge in these top-rated items.