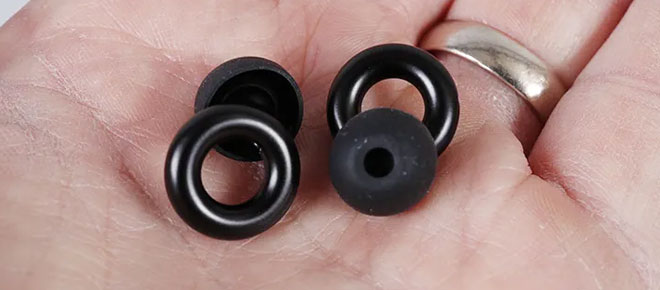 Unlike foam plugs, which cut out certain frequencies and can give you a muffled sound, Loop preserves the fidelity of environmental sounds. And their stylish, Klingon-inspired design looks infinitely sleeker than a tuft of orange foam sticking out of your ears.
They're the perfect sidekick for anyone who needs to silence distracting noises. For some, they even help them manage autism or fibromyalgia symptoms by dampening sensory overload.
Comfort
The main thing that sets Loop earplugs apart is their comfort. The acoustic filters are shaped to mimic the contour of your ear canal and have an outer surface made from soft silicone that feels silky against the skin. This helps prevent ear sensitivity and irritation. They're also designed to be used continuously for hours at a time, which makes them more comfortable than most other earplugs.
The earplugs fit easily in the ear canal and seal with little effort, though it takes a while to master the technique of popping them into place. Once you've gotten the hang of it, they stay in place nicely and don't fall out accidentally. The acoustic filter is also smooth and rounded to avoid pushing against the ear canal wall, which can create discomfort.
Once you've got the earplugs in place, you can concentrate better and block out distracting noises. That's a big help in open-plan offices, noisy restaurants, or even during a loud concert. Loop earplugs also claim to help people with ADHD, autism, and misophonia by helping them tune out triggering sounds and focus in social situations. I don't suffer from any of these conditions so I can't speak to how well the earplugs work for these purposes, but they do seem to help a lot of people get through their day with less stress and distraction.
Loop's earplugs offer up to 18 dB of noise reduction without distorting sound quality, which is plenty to protect your hearing in loud environments and while working. They're reusable and come with three sets of ear tips in varying sizes, so you should be able to find a pair that fits your ears perfectly. You can also purchase additional ear tips separately if you need more options.
The acoustic plugs are crafted from medical-grade silicon and feature a matte black finish that looks classy and durable. They're easy to clean, and they're a good choice for those with sensitive ears who don't want to wear bulky earbuds. They're a solid, affordable option that provides peace when you need it most. When you're considering these acoustic plugs or other hearing protection solutions, make sure to search for the latest Accessories Codes to save on your purchase and make hearing protection a cost-effective choice.
Sound
When it comes to protecting your ears from loud noises, most earplugs aren't designed to do much more than drown out the surrounding sounds. This doesn't exactly help to keep your ears from ringing after a concert or club night, so Loop set out to build a different kind of ear plug – one that would still allow you to hear music and voices naturally and comfortably, while simultaneously reducing the volume to prevent ear-ringing and hearing loss.
The acoustic channel that mimics the function of your ear canal is combined with an acoustic filter that reduces sound by up to 20 decibels across all frequencies while preserving audio fidelity and allowing you to hear nearby voices. It's a clever design that's very effective and makes for a pair of earplugs that you can comfortably wear all day without the dreaded feeling of your ears ringing afterward.
One thing that is a little more challenging to do with Loop earplugs is chattering with others while wearing them. The acoustic channel forms a ring around your ear, which does make it slightly harder to hear voices when you're using them, but it's far from a deal breaker. The company's newest earplugs, the Engage earplugs, do have some work to be done in this department, but they do a better job than most in lowering the occlusion to keep it easier to converse with people while using them.
With two different earplug variations and a "Mute" add-on that increases their NRR to 27 dB, Loop earplugs are versatile enough for most applications. Both the Quiet and Experience earplugs have removable silicone ear tips in four sizes to guarantee a snug fit, and both come with a handy carrying pouch so you can store them when they're not in your ears.
Besides providing hearing protection, the Quiet and Experience earplugs are also claimed to benefit those with misophonia, hyperacusis, and autism by filtering out distracting or triggering sounds. I don't personally suffer from these conditions, so I can't test that claim, but many reviews online report that these earplugs do indeed subtly reduce sounds, making them easier to digest for people who struggle with sensory overload or other disorders.
Style
While typical earplugs often look more like fashion accessories than hearing protectors, Loop aims to be different. Its design consists of a 3D-printed acoustic chamber and an acoustic filter that reduces sound volume evenly across all frequencies, according to Dynamic Ear Company. The result is a sleek, ring-shaped plug that sits comfortably in the ear canal and looks more like a piece of jewelry than a clump of foam sticking out of your ear.
The acoustic channel forms a shape that looks more like an earring than a hoop-shaped earplug, and it helps Loop's earplugs blend in with your ear, so they feel as natural to wear as possible. The ring also makes it easy to grip and shift the earplugs in your ears, so you can adjust their placement when needed. Plus, the acoustic seal holds up well against my helmet and stays put without slipping out of place or needing to be pushed back in with your fingers.
Despite reducing noise levels, the earplugs still preserve the fidelity of environmental sounds, so you can hear the voices of people in conversation and the music on your headphones. They just make things sound quieter and less blaring, which I find to be a great feature when wearing them while working at home or on the go.
Loop's Quiet and Experience earplugs offer a flat -20dB reduction, which should be enough for anyone who needs to focus on work or silencing crowd noise at a concert. If you're in a more active environment that requires a higher level of protection, the brand offers a separate accessory called Loop Mute that can boost the earplugs' effectiveness by 5 dB.
All of the earplugs in the Loop lineup are available in a wide range of colors, and all of them come with a plastic black carrying case that's small enough to clip onto your keychain or toss into your bag when you need them. You can also purchase additional silicone ear tips in multiple sizes to achieve a custom fit for your specific ear type. When you're looking to enhance your hearing protection with Loop Earplugs or accessories, consider searching for the latest Loop Earplugs UK Coupons to save on your purchase and customize your hearing protection solutions.
Value
A pair of Loop earplugs costs less than the price of a cup of coffee or an in-flight meal, so they're a worthwhile investment for anyone who spends time in noisy environments. If you work in a bustling office or have trouble sleeping, they'll give you back the quiet you need to focus, sleep, and think. If you're a music fan, they'll keep your hearing safe while allowing you to enjoy your favorite band or DJ set at the volume you prefer.
Belgian company Loop was founded in 2016 with the mission of bucking your typical view of earplugs. Its reusable plugs are designed to look more like jewelry than the "ugly Christmas trees sticking out of your ears" or clunky foam earplugs that you might have grown up wearing. They come in a range of colors and finishes, so you can find the right one to fit your personality.
The brand's first product was the Loop Experience earplugs, which were a hit with nightlife enthusiasts who wanted to bring the volume down at festivals, concerts, and clubs without sacrificing sound quality. During the COVID-19 pandemic, Loop pivoted and began making products that cater to more diverse use cases like traveling, parenting, focusing at work, and coping with noise sensitivity or neurodivergence.
Both the Quiet and the Experience Plus models reduce volume by up to 27 decibels (SNR) — which, in real-world terms, is the difference between a vacuum cleaner running a few feet away and a whispered conversation a couple of tables down at a restaurant. And they're a lot more comfortable than standard foam or wax earplugs.
The brand's newest product, the Engage, is even more customizable, with a removable mute add-on that can be inserted into either earpiece to reduce sound by an extra 5 decibels. And it's compatible with both the Experience and Quiet models, so you can choose the level of attenuation and comfort that works best for you. All three options feature silicone ear tips in four sizes to guarantee a snug fit. They're reusable and easy to clean, and they're available in several color combinations, so you can match them with your other accessories.
Conclusion
Loop earplugs are so comfortable due to their unique design and use of premium materials. The earplugs are made from soft, medical-grade silicone that conforms to the shape of your ear for a comfortable fit. Additionally, the earplugs feature a patented curved design that ensures a secure fit and prevents them from falling out during use. Overall, Loop earplugs are a great choice for anyone looking for a comfortable and effective way to protect their hearing.