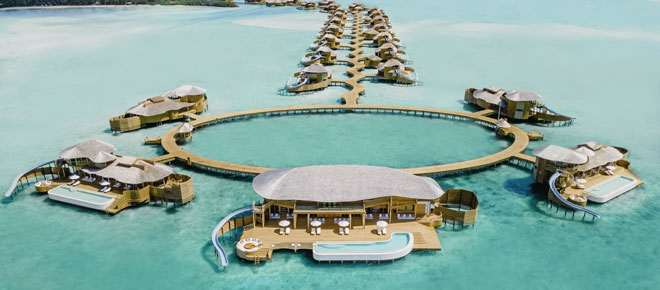 If you're looking to escape the stresses of daily life and unwind in an incredible setting, check out these top all-inclusive resort packages. These upscale resorts feature elegant privacy, lavish amenities, and gourmet cuisine.
You can find these all-inclusive packages in some of the most stunning locations around the world. From beachfront to lakefront, island to mountaintop destinations, there's an all-inclusive resort package for you.
The Grand Velas Los Cabos
The Grand Velas Los Cabos is an AAA Five-Diamond resort that combines luxury amenities and facilities with dramatic ocean views. The upscale resort features spacious all-suite accommodations, gourmet dining, a convention center, Spa with hydrotherapy facilities, and an oceanview fitness center.
The resort offers luxurious suites that measure over 1000 square feet with modern decor and breathtaking views from the private balcony or terrace. Premium amenities include a 24-hour personal butler concierge, nightly turndown service, and more.
Guests can relax by one of three pools, or take in the glistening ocean views from a private stretch of golden sand beach. In the evening, enjoy the resort's plethora of fine restaurants or head out on a romantic excursion.
Some rooms even have their plunge pools on the terrace! Some, like the 264 Ambassador suites, are also home to goose-down comforters and pillow menus.
Other accommodations offer the most luxurious of upgrades, including L'Occitane products, flat-iron styling devices, and premium minibars stocked daily. For an added touch, each room comes with a big cut glass bottle of Grand Vela's tequila and gold-chocolate-dipped strawberries!
This all-inclusive resort is perfect for couples, families, and friends. Its suites range in size from one-bedroom to penthouses, and each comes with a private bathroom with a walk-in closet.
There are also two-story suites with multiple bedrooms and bathrooms. Some even have separate living areas and kitchenettes. There are also a few special rooms that offer a view of the ocean or a pool.
For a more relaxing stay, try the resort's spa, which offers a wide range of treatments for body and soul. There are also four different restaurants serving French, Mexican, Italian, and international cuisine.
The resort also has a mezcal and tequila tasting room, and wine-based features inspired by the proximity of Mexico's wine region. In addition, there is a coffee shop with Nespresso coffee and a snack bar with light snacks and pastries.
The resort has a teens' club and a kids' club that offer supervised activities for children 13 to 18 years old, as well as individual video game booths and a dance floor. This is an ideal place for parents to have a bit of time to themselves, while their children make new friends and enjoy some fun and adventure.
Dreams Punta Cana
Dreams Punta Cana is an upscale beachfront resort that's ideal for families and couples looking for a relaxing getaway. The 620-room property is located on a quiet, white-sand beach a 20-minute drive from touristy Bavaro and a bit longer from the airport. The property's amenities include a large freeform outdoor pool, tons of daytime activities, a quality kids' club with a mini water park, and a full-service spa.
Rooms are contemporary and elegant, either outfitted in an ocean-inspired blue-and-white design or a more warm red-and-green color palette. Most rooms have furnished balconies or terraces and most overlook the pool and grounds.
In-room amenities include a TV, a safe, and a mini-fridge. A limited number of suites have private hot tubs on the balcony.
The property's Unlimited-Luxury all-inclusive plan offers limitless gourmet a la carte dining and top-shelf liquor at several bars. There's a French-themed adults-only restaurant, Bordeaux; an Asian-inspired eatery; a seafood spot; and an Italian-influenced pizzeria.
Guests also have access to the resort's enticing spa, which includes tranquil outdoor walkways spanning over koi fish ponds and airy treatment rooms. There's also a gym with several cardio and weight-training machines.
Families and couples will enjoy the many activities offered at this upscale resort, including the waterpark. Children under 12 can enjoy the mini water park for free, but they may need a parent to stay with them at all times.
Another great feature is the shady nooks extending from the welcome center down to the beach. They're decorated with Tainos-inspired artwork (the indigenous people of the Dominican Republic) and a pack of flamingos roam freely.
While most of the dining options are a la carte, there's also a buffet restaurant and a pizza joint, plus an Italian-influenced pasta bar. The resort's Sip, Savor & See program gives guests access to additional restaurants at nearby sister properties.
The property's 620 guest rooms are comfortable and spacious, with wood furniture and tile floors. Some have king-size beds or two double beds, and most are equipped with flat-screen TVs and DVD players. Some of the deluxe rooms have a shower/tub combo in the bathroom and a mini-fridge.
Using Travel Discount Codes is a great way to save money on budget travel. Look for coupons and discounts on travel websites and in travel newsletters. You can also search for deals on social media platforms like Facebook and Twitter. Be sure to read the terms and conditions carefully to ensure the coupon is valid for your desired travel dates and destinations.
Dreams Huatulco
Dreams Huatulco is the perfect getaway for couples, families, and friends looking to get away from it all. Set amongst a dazzling jungle, colorful coral reefs, and the beautiful Tangolunda Bay, this resort offers upscale and modern amenities with magnificent ocean views.
Rooms are spacious, comfortable, and designed with a touch of elegance. Many rooms offer a private balcony or terrace for an unforgettable vacation. Some rooms are also equipped with air conditioning and a minibar.
Guests can enjoy a range of entertainment options including evening stage shows and live music. Several restaurants and bars are on-site, offering delicious dining options throughout the day.
The resort is a good choice for families because it has a kids club and an outdoor pool. Children can also use the climbing wall and play area.
Budgetair offers affordable all-inclusive resort packages that can be discounted even further with their coupon codes. These packages typically include accommodations, meals, drinks, and activities, making it easy for travelers to budget their expenses. With the use of Budgetair Coupon Codes, customers can enjoy additional savings on their already affordable packages. Check out the AllOverCoupon website to find the latest deals and coupon codes for all-inclusive resort packages.
A variety of activities is available at Dreams Huatulco, including family-friendly games and evening stage shows. The Unlimited Connectivity program is also a great feature, allowing guests to make connections with others across all Dreams hotels.
For a luxurious getaway, consider an all-inclusive vacation at Dreams Huatulco. This resort features mesmerizing ocean views, gourmet dining, and unlimited drinks. It is also a popular choice for families and couples looking for a fun vacation with plenty of activities to keep everyone entertained.
Dreams Huatulco is a 4.5-star resort located on the shores of Tangolunda Bay in Huatulco. It offers a wide range of amenities, including a spa, a sauna, and a Jacuzzi.
There are 421 guestrooms and suites in various categories at Dreams Huatulco. Each room includes a private balcony or terrace, plus complimentary Wi-Fi.
Some of the rooms have an indoor Jacuzzi and some have a private pool. There are also a few deluxe suites in the Preferred Club, which offer a higher level of luxury and exclusive privileges.
The resort is situated on the beach of Tangolunda Bay and is a short walk from downtown La Crucecita. The resort is also near the airport and has a few shops and restaurants.
This resort is all-inclusive, which means it includes meals and beverages at onsite restaurants and bars. Other items and services may be subject to an additional charge.
Dreams Puerto Vallarta
Dreams Vallarta Bay is one of the most family-friendly and modern resorts in Puerto Vallarta. It is a great option for families, couples, and groups looking to enjoy Unlimited-Luxury privileges in a stunning tropical setting.
It's also a fantastic option for guests who prefer to avoid the crowds of Puerto Vallarta's other resorts, but still want the same quality of service and amenities that are offered at most of the area's top destinations. The upscale beachfront property is located about 10 miles from the Puerto Vallarta International Airport and offers a quiet respite from the city's more congested spots.
Like many other Dreams properties, this Nuevo Vallarta outpost isn't as large as some other Mexican all-inclusive (it's only a few buildings tall). Its rooms are secluded in two towers and connected to a gorgeous beach and multiple pools.
Multiple onsite restaurants are serving up excellent all-inclusive cuisine, and the drinks are top-notch as well. Preferred Club members can also enjoy a private beach area, afternoon hors d'oeuvres, and access to a swim-up bar.
The beach in front of the resort is beautiful, with a nice mix of lounge chairs and palapa-style umbrellas. It isn't overly big, but it does have a volleyball court and boogie boards available.
Guests can rent kayaks or a Jet Ski, though these incur additional fees. And the beach isn't covered with seaweed, as it is at most Mexican all-inclusive.
It is also easy to walk into downtown Vallarta from the resort. This is a great place to experience the town's culture and nightlife, but be aware that there are some areas where it is best to exercise caution at night.
Across Mexico and the Caribbean, Dreams has become a name that is synonymous with quality all-inclusive vacations. This Nuevo Vallarta outpost has everything travelers have come to expect from the brand - beautiful rooms, excellent food, top-notch pools, and family-friendly activities. There's even a great selection of premium liquor on offer at five bars.
Conclusion
Families and couples will enjoy the many activities offered at this upscale resort, including the waterpark. This resort is all-inclusive, which means it includes meals and beverages at onsite restaurants and bars. Dreams Vallarta Bay is one of the most family-friendly and modern resorts in Puerto Vallarta.