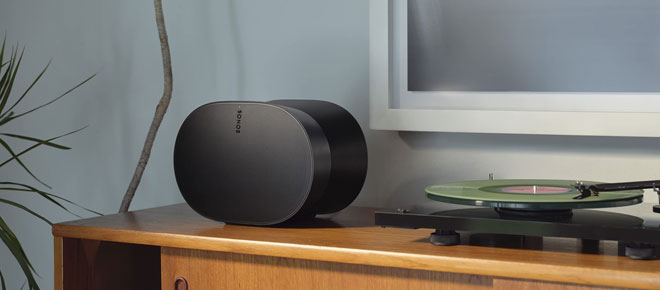 Whether you're throwing a party, taking your workout to the beach, or just lounging by the pool, you need a speaker that sounds great and is easy to use. These are our picks.
Some Bluetooth speakers have Wi-Fi on their spec sheets which means they can stream music via your home's network and offer added features like voice control from Amazon Alexa or Google Assistant.
JBL Pulse 5
If you want to impress your guests with a rock-solid Bluetooth speaker that also puts on a light show, the JBL Pulse 5 is the way to go. This clear plastic speaker has a 360-degree LED light sleeve that moves and changes colors with the music you play. The sleeve is easily activated by the controls on the back or through the free JBL Portable control app. There are six preset light shows that you can choose from, ranging from serene and calm to crazy and energetic.
You can also connect two smartphones or tablets to the speaker via Bluetooth, so two people can use it without fighting over the playlist. It also has a built-in microphone for hands-free calls and comes with a waterproof case for poolside fun. The sound is rich and balanced, with a slight EQ boost for better bass. If you need even more power, you can pair it with other JBL Pulse 5 speakers using PartyBoost technology. Just make sure that they're all in the same room and you'll have one hell of a party, and you can buy it from AllOverdiscount at a reasonable price.
Bose SoundLink Color
Unlike many Bose products, which go big on features and visual flair, this speaker takes a minimalist approach. It's small, durable, and comes in a range of colors to match your home. The rounded corners and soft grip strips along the sides make it easy to hold, and it can be placed on almost any surface.
The 3.5mm auxiliary port lets you connect other devices, like your laptop, that don't support Bluetooth. A power button, a Bluetooth pairing button, and an audio playback control are located on the top of the speaker. A USB cable and a wall charger come in the box.
On the audio front, the SoundLink Color produces vocals and lead instruments well enough, though it lacks a little transparency in its treble region. This makes it a great choice for soothing background music, but it's less suitable for rousing party tracks or sophisticated hi-fi listening. It also has a somewhat inconsistent directivity pattern, so you can hear notable differences in its sound quality depending on where you are about it.
Battery life is rated at up to 8 hours, which is pretty standard for speakers in this category. I've been able to keep it going for well past that mark, but it's still a bit shorter than the claimed battery life of rivals like the Mini Jambox and the UE Boom. If you want high-quality speakers at reasonable price use the Betta Home Living Promo Codes. 
Bose SoundLink Mini
The SoundLink Mini is the best-sounding portable Bluetooth speaker that Bose offers. Its deep bass and rich midrange make it stand out among wireless speakers that are similarly priced. It can fill a large room with rich and full sound, although it is not quite as loud as some of the competitors in our list.
The mini has two passive radiators that significantly improve the sound of this compact speaker. It produces deep and rich bass that is not overpowering, and even at high volumes, the bass remains clean and balanced without losing any of its dynamic punch. Its midrange is lush and warm, allowing vocal-heavy tracks like Norah Jones to shine. It also has an excellent ability to reproduce the sense of space that is so important for acoustic music, such as the clinking of glasses in jazz recordings.
In our tests, the SoundLink Mini performed a bit better than its smaller sibling, the SoundLink Mini 2, scoring an impressive 9 out of 10 in our audio quality metric. It also has an extra hour of battery life compared to the original version of the speaker. It looks more traditional on the outside, with a rugged aluminum case that can be wrapped in one of seven different soft covers.
Bose SoundLink Air
The Bose SoundLink Air is the successor to last year's popular Bose SoundLink Wireless Mobile Speaker and adds a much-needed AirPlay option to its arsenal. Apple's AirPlay technology allows you to stream audio directly from your iPhone, iPod touch, or iPad through the SoundLink Air using your home Wi-Fi network.
The SoundLink Air is a bit of a rehash, borrowing its jet-black design and 30-pin iPod dock from previous Bose products like the SoundDock Series II, SoundDock Portable, and more. While some may be turned off by Bose's penchant for recycling its past designs, the SoundLink Air is a great-looking and solid-performing Bluetooth speaker that will work well with any iPod or iPhone.
Sonically, the SoundLink Air is a very enjoyable and balanced system that delivers plenty of bass without going overboard. Bass-heavy dance and rock tracks have some good grunt without sounding over-cooked, while vocals are smooth and detailed. Instrumental content, such as "Yet Again," from the latest Grizzly Bear album Shields, also sounds great. The lower frequencies are boosted a little more than I'd prefer, which gives the guitar and upright bass parts an extra punch that some listeners will enjoy.
The only major problem I encountered while testing the SoundLink Air was a bug that would occasionally cause the speaker to stop playing music when connected to an iOS device. After some trial and error, I found that resetting the speaker by holding down a button (typically on the bottom or back) for about 10 seconds and then re-enabling Bluetooth solved this issue. If you want to save a huge amount on speakers or any other electronic items use the Electronic discount Code.
Bose SoundLink Mini 2
A classic Bluetooth speaker, the Bose Mini 2 still sounds as good as it ever did and is a great pick if you're looking for a simple, solid option. This speaker can fill large rooms with rich, balanced music and its battery life is excellent for its size.
It has a slightly high-end roll-off that's more noticeable than some rival speakers, but it's hardly a deal breaker and it's far preferable to the hissing, ear-shredding highs of those competitors. It doesn't have the stereo separation that you'd find in higher-end Bluetooth speakers, but it does sound a lot bigger than its modest dimensions suggest, and it can get really loud without suffering from any distortion.
Another great feature of the Mini 2 is its easy pairing. When turned on it automatically enters pairing mode (a nice touch, especially if you're buying it for someone less tech-savvy than yourself) and tells you so with a voice prompt. It'll even remember up to nine different devices for you, which is great if you have multiple Bluetooth products in your house.
The only real drawback to this speaker is that it doesn't offer aptX codec support, which would have made it even better than it already is. It is, however, waterproof and comes with a charging cradle that's a welcome improvement over the DC jack found on most Bluetooth speakers.
JBL Charge 5
The JBL Charge 5 is a solid, reliable speaker with impressive vocals and bass. It's the kind of portable Bluetooth speaker you can bring with you to a picnic, beach, or party without worrying about it being damaged by water or dust.
The speaker has a long-excursion driver and two passive radiators, which make it sound full and rich. Its tuning is geared towards bassy dance music, but it's still balanced enough for other genres as well. The speaker can also get quite loud before distortion starts to set in, which should be more than enough to keep a large crowd entertained. The free JBL Portable app (formerly called the Connect app) lets you adjust the bass, mids, and treble with a three-band EQ that's modest in scope but still useful.
The Charge 5 has a minuscule power meter on its front that lights up to display the battery's current charge level, and there are plus and minus buttons on the speaker itself that you can use to change track and adjust volume. The buttons are easy to locate and intuitive to use, though I miss the 3.5mm aux-in port that you'd typically find on other speakers.
JBL Clip
Designed to be a tiny companion for active people, the JBL Clip is the smallest and lightest speaker in our Bluetooth speaker lineup. It clips securely to things like backpacks, jackets, and messenger bags for on-the-go listening. Its IP67 rating makes it resistant to splashes and short-term submersion of up to a meter for a half hour. It also features a built-in snap hook that can clip to things like wall hooks, ropes, and poles.
In our lab tests, the JBL Clip 4 scored well in both sound quality and ease of use. We were impressed with how rich it sounded at medium volumes, with clear reproduction of voices and a feeling of dynamics and silvery treble resolution. However, its highs can sound muddy and bass can drown out the mids at louder volumes. It also lacks a track selector function which is an oversight for such a small speaker.
It has a built-in rechargeable battery that is rated to play for up to 10 hours at normal volume, although the actual battery life can vary depending on your music and how much you crank the volume up. The speaker also has a status light that can tell you if it is charging or full, though we would have liked to see it give a more advanced indication when the battery was close to running out of power.
Conclusion 
If you want to experience music like never before, consider investing in Bluetooth speakers. They offer high-quality sound and the convenience of wireless connectivity. Plus, with the "betta-home-living Discount," you can save money while enjoying your favorite tunes. Take advantage of this chance to improve your listening experience.