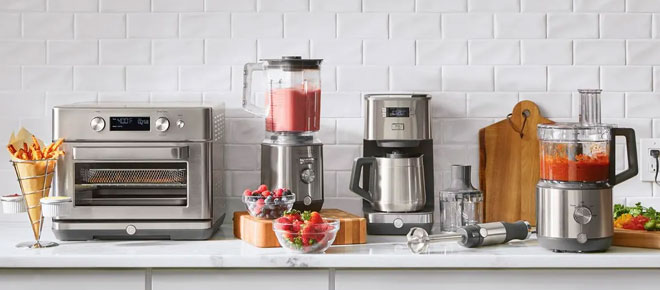 From smart kitchen gadgets that take the guesswork out of cooking to a web-connected trash can that knows when you have your hands full, these appliances will add some magic to your galley.
Small appliance manufacturers are encouraging consumer adoption of connected technology by introducing a variety of affordable products. Versatility will be a key feature that will attract consumers to these devices.
Voice-controlled Personal Assistants
Home appliances are increasingly incorporating voice recognition technologies. In addition to popular smart speakers from Amazon, Google, and Apple, this tech is also now being found in ovens, dishwashers, and refrigerators from top manufacturers like Samsung and Whirlpool.
These devices can play music, add items to a calendar, perform searches, send messages, answer questions, and control some smart devices. Some can even make phone calls. New features are continuously being added. For example, the latest models of both Apple's Siri and Amazon's Alexa can now identify different voices. This feature allows multiple people in a household to use their voice assistants at the same time.
Consumers are also enhancing their voice assistants' capabilities through applications. These apps enable a voice assistant to do specialized tasks or provide custom services, such as guiding users through recipes or suggesting charitable donations. While voice applications make using a voice assistant easier and more enjoyable, they can raise privacy concerns. After all, these applications and voice assistants are technically always listening for their wake word, and recordings may be parsed later by humans to help bolster machine learning and improve performance.
Some of these applications can access a person's private information, including their location and past search history. As a result, there are concerns over privacy and the risk of identity theft. While a person can delete their recording by visiting the device's settings, it is difficult to do so on a large scale. Some devices like Amazon Alexa and Microsoft Cortana offer a way for the user to manage their data and adjust how much information is collected.
A few years ago, voice assistants were limited in what they could do. But with the rise of e-commerce and the popularity of streaming video platforms, voice assistants are now capable of performing many tasks on their own. For instance, a voice assistant in an oven can now set the temperature and start cooking with just one command.
In the future, a voice assistant in a car may be able to do even more. At the 2018 CES, Mercedes-Benz introduced an AI assistant called MBUX that can do things such as lower the temperature in the vehicle if it senses that you are cold, instead of needing you to tell it to do so specifically.
Sensors
In the smart kitchen appliances market, sensors are a key technology. They connect to Wi-Fi, enabling you to control your appliance from anywhere with an Internet connection. They can also send you alerts, such as when the oven is preheated or your meal is finished cooking.
Temperature sensors are a common type of sensor in many products. They detect changes in temperature, either of the air or the liquid within a vessel. They can be analog or digital. Analog sensors produce an output that can be read as a continuous value, while digital sensors produce an output with discrete values. Examples of appliances that use temperature sensors include heaters, mobile phones, and automobiles.
The smart kitchen appliances market is growing due to a rise in demand for products that can save consumers time and effort. Manufacturers are offering products that feature artificial intelligence (AI) and voice control. These technologies make it easier for people to cook and clean their homes. In addition, smart kitchen appliances are designed to save energy and reduce carbon emissions.
Some smart kitchen appliances are motion sensitive. They sense when someone is approaching, which helps them to avoid direct contact with surfaces and prevent cross-contamination. Other smart appliances offer a remote alarm system, which can be activated from your smartphone or tablet to alert you that your meal is finished cooking or the dishwasher is running. Some also have a built-in camera that lets you monitor your home from anywhere.
In 2021, appliance versatility was a major theme for manufacturers. With space constraints in most households, multifunctional appliances were popular. For example, the Bosch Cookit has 27 functions, including a food processor, slow cooker, and pressure cooker.
Companies are focusing on bringing affordable smart appliances to the mainstream market. They are also focusing on ecosystem partnerships to enhance product functionality and increase sales. In addition to this, they are experimenting with new business models such as bundle sales, subscriptions with consumable brands, and private labels. This trend will continue as manufacturers seek to grow their revenues and profits.
You can find budget-friendly electronic appliances using Electronics Coupon Codes. These coupons can be found online or in-store and offer discounts on a variety of home appliances such as refrigerators, televisions, and washing machines. Make sure to read the terms and conditions of the coupon before using it to ensure it is valid for the appliance you want to purchase.
Convenience
The rapid pace of urbanization and shrinking living spaces are fueling the demand for smart kitchen appliances. The devices are designed to offer multifunctionality and convenience, making it easier to manage hectic lifestyles. The appliances also can connect to other home devices to ensure maximum utility. Smart ovens, for example, can be connected to smart fridges and washing machines. This allows you to remotely operate the dishwasher and control the temperature of the oven.
With so many appliances on the market, it can be difficult to choose the right one for your needs. However, the top-rated devices are the ones that offer a wide range of features and can work with a variety of voice-controlled personal assistants. They also feature an intuitive app for easy operation.
These multifunctional kitchen gadgets make it possible to cook multiple dishes at once. They can also help you avoid consuming unhealthy fats and sugars by regulating the temperature of the food while cooking. Moreover, they can help you save time by automating the process of cooking. This way, you can enjoy healthy meals while maintaining a busy lifestyle.
In addition to reducing the number of kitchen tools you need, smart appliances can also make meal prep and cleaning tasks much more convenient. For example, smart appliances can monitor your refrigerator and remind you when it's time to buy groceries. Some can even scan barcodes to automatically set the time and temperatures for frozen foods. This feature saves you time and effort while ensuring that your family gets the best-tasting meals.
Manufacturers are also developing smart small appliances that can help people with disabilities. They have taken into account the ergonomics of their design to make them accessible and easy to use. For instance, they are introducing side-opening doors for smart refrigerators and dishwashers. They are also adding more accessibility-sensitive alerts to microwaves and dishwasher drawers.
As people continue to embrace smart tech, manufacturers will likely continue enhancing their products with sensors and advanced features. They will also focus on improving the user experience and increasing their energy efficiency. For instance, they may introduce a smart oven that can reduce cooking time by up to 50% by monitoring the cooking progress. In addition, they will provide an integrated kitchen solution by incorporating voice assistants and Wi-Fi connectivity.
Betta Home Living Promo Codes can help you save money on budget kitchen appliances. Check out their website to find discounts on items like toasters, blenders, slow cookers, and more. With a promo code, you can get high-quality appliances at a fraction of the cost.
Energy Efficiency
If you're looking for smart appliances that use less energy, you can't go wrong with high-tech range hoods. These kitchen gadgets usually feature a widescreen Android-powered touchscreen and ventilation system, plus dual cameras: one forward-facing for video chatting with friends and family over granny's recipe, the other located above your cooktop to live to stream your progress.
These devices can also use sensors to determine when it's time for your oven to turn off, or when your food is ready. This way, you don't need to keep an eye on the clock or run up your electric bill by constantly running your appliance.
Energy-efficient smart appliances are becoming increasingly popular because of consumer concern over rising electricity costs. In addition, they help reduce carbon emissions and waste. These technologies are especially useful in kitchens, which typically consume the most electricity in the home.
Some companies are even working on smarter appliances that require less power. For example, the GE Kitchen Hub is a large appliance with a built-in kitchen assistant that uses less power than traditional refrigerators and cooktops.
There are also a variety of appliances that work with voice commands to control other devices in the home. This includes smart coffee makers, smart blenders, and smart cooking tools like a smart cutting board or the Blok. The snazzy Blok, which made its debut at CES this year, has a detachable screen meant to beam in live or pre-recorded cooking videos while you're working on dishes.
In the future, smart appliances will also have the ability to communicate with each other, creating an entire smart home ecosystem. This way, you can control all of your appliances with a single app or voice command, reducing clutter and allowing for more efficient use of your home's resources.
The market for smart kitchen appliances is expected to grow rapidly in the coming years, thanks to increased adoption of smart home technology and rising disposable incomes. This will lead to improved productivity in the kitchen, as well as an overall increase in household efficiency. However, it's important to research your options carefully to ensure you get the best smart appliance for your home.
Conclusion
This includes smart coffee makers, smart blenders, and smart cooking tools like a smart cutting board or the Blok. In the future, smart appliances will also have the ability to communicate with each other, creating an entire smart home ecosystem. The market for smart kitchen appliances is expected to grow rapidly in the coming years, thanks to increased adoption of smart home technology and rising disposable incomes.