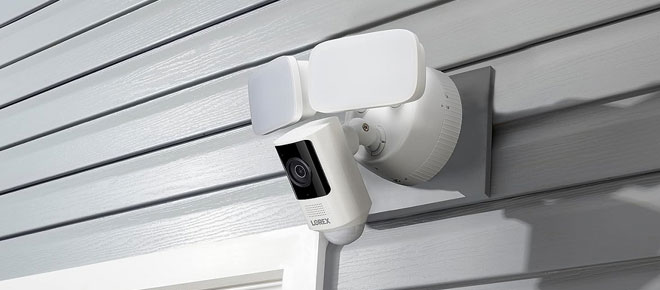 A floodlight security camera gives you two essential benefits in one sleek device: solid lighting and a home surveillance camera. These cameras have motion detection, two-way audio, and a 105-decibel siren to deter unwanted visitors.
Resolution: Ideally, you want your camera to have a wide viewing angle, which can help you spot people or vehicles outside your house. Look for a minimum of 1,080p resolution, though higher-resolution cameras offer better image clarity.
Wyze Cam Floodlight
Wyze Labs' smart floodlight camera is an innovative and cost-effective option for anyone who wants to monitor their home from the comfort of their smartphone. The camera integrates with Amazon Alexa and Google Assistant devices, allowing users to control the device through voice commands and take advantage of its wide-angle field of view. This camera is rated IP65, meaning it can withstand the elements and is moisture-resistant.
This camera has color night vision capabilities, enabling you to watch your home in low-lighting conditions. Wyze says this is possible thanks to a new Starlight Sensor, designed to detect motion and capture footage in color without using the traditional black-and-white night vision mode that can muddle up images. This floodlight camera also features dusk-to-dawn automation, meaning the light will turn on at night and off during daylight hours. The camera can also be set to record continuously, saving footage onto a microSD card (cards with up to 256GB are supported).
The floodlight itself has a maximum brightness of 3,000 lumens. The app can adjust this to a brightness level that suits your needs. The camera also comes with an ambient lighting mode that allows you to leave the light at a dim setting throughout the day, and it will only increase brightness when it detects movement around the area.
Another unique feature of this device is its ability to be expanded by adding a second floodlight camera. This will allow you to simultaneously monitor two separate areas of your property, giving you complete coverage and eliminating any blind spots. This device also features a built-in 105dB siren and speaker to scare off intruders and two-way audio so you can communicate with anyone on your property.
The Cam Floodlight Pro is available now for $150, and a black version will be released by the end of July. It requires the hardwired installation and can be connected to a 2.4GHz or 5GHz Wi-Fi network. The camera is compatible with Wyze's premium service, Cam Plus, which will record footage to the cloud and send targeted alerts when people, animals, or vehicles are detected.
Eufy is a leading brand in home security systems, and they offer a range of affordable floodlight cameras and other security solutions. With the Eufy Promotional Code, customers can get even better deals on these high-quality products. The floodlight camera is an excellent choice for anyone looking to enhance their home security. It provides bright, motion-activated lighting and a high-definition camera to deter potential intruders and capture suspicious activity. Other security options from Eufy include indoor and outdoor cameras, video doorbells, and smart locks. With the Eufy promotional codes, you can save money while keeping your home and loved ones safe and secure.
Swann Slimline Floodlight
The Swann Slimline Floodlight is a security camera with lights that also serves as a smart home hub. Its built-in Wi-Fi capability allows you to monitor your property from virtually anywhere with a smartphone or computer. The system can also be controlled through Amazon Alexa and Google Assistant voice commands. It is compatible with other smart home ecosystems, including Z-Wave, Apple HomeKit, and IFTTT.
The camera's night vision feature reveals people and other objects in high definition, enabling you to easily recognize them. The camera has a wide field of view of 270 degrees. Its intelligent motion detection is customizable based on your needs. Once it detects movement, the floodlights will turn on automatically. This can act as a deterrent to thieves as it will alert them that they are being monitored. The floodlights can also be turned on manually if you want to keep your home secure at all times.
One of the best things about this device is that it works without a subscription. This is rare for security cameras because they usually require a monthly payment to access their cloud features. However, the Swann Cam has an SD card slot that lets you bypass monthly fees.
This camera also has a microphone to hear any sound outside your home. It can listen to conversations and sounds that indicate someone is inside your home or on the property. The Wyze app can also activate the microphone, allowing you to talk back to anyone attempting to break into your property.
This device can be powered by either a battery or a solar panel. The battery-powered option uses a rechargeable battery that lasts up to 3 months. On the other hand, the solar-powered option is an excellent choice for those looking for an environmentally friendly way to power their security cameras. It comes with a solar panel that is built-in along the camera's top edge or can be placed separately, as with the EufyCam 3. It is compatible with Apple and Android devices and can be controlled through a smartphone or digital assistant.
Electronics Discount Code offers a wide range of budget-friendly security systems to secure your home or office. OUR AFFORDABLE OPTIONS CATER TO YOUR NEEDS, from CCTV cameras to smart door locks. Our team of experts can guide you in selecting the right system and assist with installation. Trust us to provide reliable and effective security solutions without breaking the bank.
C289 3MP Pan-Tilt Security Camera System
ZOSI is a top-rated brand within home security cameras, ensuring the best quality in every product. This system features four indoor and outdoor HD bullet cameras with night vision and motion detection. The cameras can be viewed remotely using the free app, making monitoring your property from any location easy. They come equipped with a PTZ function to allow you to control the camera's movements for wide-area surveillance.
With advanced AI human detection technology, this camera can identify a person and alert you instantly with an app push notification. This helps to reduce the number of false alarms from pets, vehicles, and other moving objects that can be captured by the camera. The camera's high-definition resolution and 8 infrared LEDs provide excellent coverage of your premises, even in dark areas.
This camera has a built-in microphone and speaker, so you can hear what's going on around your home or business from anywhere. This feature makes it easier to interact with visitors, as you can speak to them through the camera. The noise-canceling microphone also helps to eliminate unwanted background sounds. The Reolink E1 can record videos at a super-HD resolution of 2304x1296 pixels. It has a high-performance processor delivers excellent image and video quality, even in low-light conditions. Its 8 infra-red LED lights can cover up to 40ft in the dark. It supports pre- and post-recording to let you select how long to record after a motion trigger.
It can be installed in various indoor and outdoor locations, including homes, shops, offices, and warehouses. The camera has a sturdy metal housing that protects the device from vandalism and external elements. It also has a fan to dissipate heat and extend the camera's life span.
This camera is one of the most affordable options on our list, and it comes with a 3-year warranty. It also has a unique feature that lets you create an invisible perimeter, activating a red light at the border of your property. This will deter intruders from entering your property and alert you to unwelcome guests.
C518 3MP PTZ Security Camera System
Having a camera that can pan, tilt, and zoom can be helpful in a variety of situations, especially in cases where you need to monitor a large area and capture details over a long distance. However, one downside of PTZ cameras is that they can only record places in their field of view. This can lead to gaps in coverage and may allow criminals to slip undetected from areas not being monitored. To avoid this, look for a PTZ camera with built-in motion tracking software and AI video analytics to automatically track moving targets, even when the camera is not manually maneuvered.
A PTZ security camera system is perfect for securing commercial spaces, warehouses, parking lots, and stadiums. Monitoring seating areas and entrances can help ensure crowd safety during concerts, sports games, and events. In addition, it can help increase surveillance in transportation hubs by monitoring ticketing platforms and regions. In addition, a PTZ security camera can also be used in schools to observe classrooms and hallways. This can help improve security by deterring crime and bullying.
PTZ cameras are great for capturing high-resolution video with advanced facial recognition and night vision features. These cameras can also be equipped with sensors to detect movements in the surrounding area, which can trigger alarms and notify you via the app or email. Some cameras are designed to work in extreme weather conditions, which can be helpful for outdoor installations. This can include IP66 waterproof ratings and IK10 protection against direct impacts from vandals, hail, or flying debris.
Unlike other wireless CCTV cameras, PTZ cameras are more expensive than fixed solutions. However, they are more versatile and can provide excellent monitoring options for your home or business. Choosing the right PTZ camera system will depend on your budget and what features you need. While there are cheaper alternatives, consider the quality of images and the functionality you will get from a PTZ camera before making your final purchase.
Conclusion
Security cameras with lights are an effective way to enhance the protection of your property. Their ability to deter potential intruders and capture clear footage provides a sense of security and peace of mind. The top security cameras with lights on the market today offer a range of features and capabilities to meet your specific needs. Consider investing in one of these cameras to add more security to your home or business.