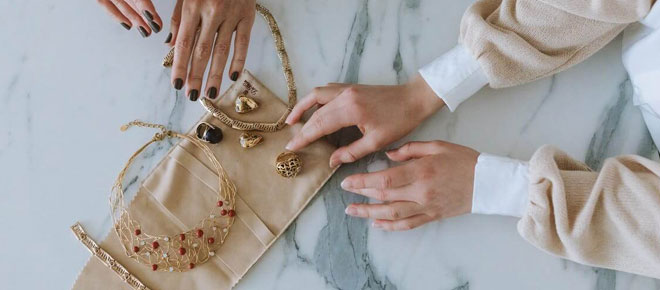 Elevate your style with the ultimate guide to clothing accessories. Discover how to effortlessly enhance your outfits, from statement jewelry to stylish scarves. Whether you want to add a pop of colour or a touch of elegance, these accessories are essential for creating a polished and sophisticated look. Explore different ways to accessorize and unlock your fashion potential. Shop now to elevate your style game.
Belts
Like a great tote bag or a luxe pair of boots, a belt can do much more than keep your pants up. Whether styling a monochrome dress or creating a loop knot look on a maxi skirt, a belt is a must-have accessory to elevate your style. From glam-rock slingback styles and slouchy wrap belts to supple leather options, there's something for every outfit. If you're looking for Apparel & Clothing Promo deals, remember to explore the wide range of belt options available to add that extra flair to your ensemble while staying within budget.
You can even use a belt to pull together a separate look or create an accent colour in your outfit by matching it with your belt. This tip works exceptionally well with shirt dresses and skirt outfits, where the belt can act as a third piece that makes your look more polished and put-together.
Try to stick with a neutral shade for belts, as it'll be more versatile and work best with a wide variety of looks. A black belt will always be a classic, but brown belts are a good alternative if you prefer something softer and more sophisticated than black.
Scarves
Scarves are an accessory that adds a touch of elegance to any outfit. They are typically made from various materials, including wool, cashmere, and silk. They can be worn in many ways and are available in multiple colours and patterns.
Scarfs come in all shapes and sizes, from thicker winter scarves to thin summer scarves. They can be worn on the neck, head, or waist and draped around the shoulders like a shawl.
Silk scarves, in particular, are a perfect canvas for style innovation. Their simplicity belies a sophisticated ease, and their ability to elevate an outfit is unsurpassed. For example, the loop-through drape is a harmonious fusion of basic knots and elegant draping.
Necklaces
One of the most common ways to elevate your outfits is by accessorizing them with necklaces. Whether you want to add a touch of sparkle to a white linen dress or a floral flair to a boho-inspired tee, this accessory can help you express your style.
A simple, thin chain necklace can be paired with your favourite casual everyday shirt or T-shirt for a subtle yet sophisticated look. For a more formal outfit, opt for a necklace that falls at the base of your neckline to highlight your collarbone. If you're searching for a Pepe Jeans Coupon to enhance your wardrobe with stylish pieces, consider complementing your attire with these understated yet elegant necklaces for a touch of finesse.
Other necklace styles, such as chokers, lariats, and festoon-type designs, can complement your outfits differently. For example, a lariat necklace features a Y-shaped appearance with no clasp and looks gorgeous when worn over scoop necklines. The Riviere necklace, on the other hand, features precious or semi-precious gemstones strung together with smooth graduation in size and suits a more refined aesthetic.
Lastly, layering necklaces is a great way to express individuality and create a unique look. You can even find necklaces that allow you to spell out your name or initials for a more personalized touch. When choosing a necklace, remember to match it with your earrings and bracelets to ensure that the jewelry you wear is cohesive.
Earrings
Effortlessly elevate a simple white T-shirt and jeans with a bold pair of statement earrings. Match them with your hairstyle to create harmony – updos and sleek ponytails draw attention to the earring details, while loose curls and beachy waves exude effortless chic. Earrings with intricate detailing pair beautifully with a crisp white shirt or blouse, while bold gems or eye-catching colours like canary diamonds and rubies look dazzling over a classic black outfit.
Whether dressing up for an event, gearing up for a casual outing, or conquering the office, accessories are the finishing touches that turn your outfit into a statement and your style into your signature. Learn how to accessorize confidently, and don't be afraid to explore the exhilarating journey of stepping out of your comfort zone to discover new accessories that reflect who you are. Remember that the secret to successful accessorizing is the art of balance – consider the occasion, your outfit, and the power of less is more. With these tips, you're ready to quickly elevate your style while looking for enticing Livery Link Discounts to enhance your accessory collection.
Bracelets
Accessories can turn an ordinary outfit into a statement piece and transform a look into an experience. They're the finishing touches that add an extra dimension to an ensemble, showcasing your unique personality and taste. From statement jewelry that exudes elegance to functional bags that effortlessly merge style and uti ways, you can elevate your style with the proper access in many ways.
However, it is essential to remember that fashion trends come and go, so you should only wear a few accessories simultaneously. Spend your money on classic pieces you can wear for years.
For instance, a leather bracelet is a stylish and versatile accessory for men that can be worn casually or even with a suit for a more elegant look. Try pairing lighter-coloured bracelets with dark suits or outfits to balance styling. Bracelets can also be worn with a watch, either on the right or left hand — it just depends on what looks best with your personality and style.
Sunglasses
Designer Micheal Kors once said, "Accessories are like the exclamation point of a woman's outfit." And he couldn't be more suitable. From bags to shoes, sunglasses, and scarves, accessories are the perfect way to take your look from simple to stylish in a snap.
Sunglasses are an essential item for any fashionista. They help protect your eyes from the sun's harsh rays and add a chic, sophisticated touch to any outfit. They're also available in various styles and colours, so you can find the perfect pair to suit your style.
If you're looking for style inspiration, check out model Kendall Jenner. Her wardrobe is mainly composed of neutrals, but she always adds pops of colour with her accessories. Adding just one colourful supplement can elevate your look, whether it's a Fuschia scarf, purple handbag, or red shoe. So don't be afraid to experiment with different colours and find the ones that best complement your skin tone and eyes. For example, cat-eye frames would work well with a formal outfit, while aviator sunglasses are more appropriate for casual wear.
Bags
Bags are a stylish and practical accessory that can elevate your outfit. They can be made of various materials, textures, and colours. Choose a bag that reflects your signature colour and goes well with most of your clothes. A good quality leather bag will go with most of your wardrobe.
A handbag in crocodile-embossed leather or woven straw will add texture and dimension to your outfit. A canvas tote will complement jeans and a T-shirt, or opt for a leather bag with a suit for a more formal look.
Accessories are one of the easiest ways to elevate your style. The key is not overdoing it; too many accessories can make you look cheap and gaudy. The best way to get the most out of your accessories is to experiment with them and find what works for you. It's also essential to take the time to learn about fashion trends and to be confident in your style. By doing this, you can create a beautiful and cohesive outfit every time!
Jewellery
Accessories are the essential pieces that transform a dress into an outfit and an ensemble into a statement. From the right jewelry to a pair of sunglasses, you can easily elevate your look by choosing the right accessories to match it.
When it comes to jewelry, a simple accessory can have the most significant impact on your style. From small diamond studs to thin hoop earrings, you can find many unique styles and materials that will complement your dress and enhance your style.
However, it's important to remember that your jewelry should not distract from other elements of your look. Choosing jewelry that complements your outfit's colours and textures is a good idea. For example, wearing a bracelet with natural ingredients, like tree bark or green leaves, can help to enhance your look authentically and uniquely. It's also a good idea to wear various jewelry, including bangles and rings, to add more texture to your outfit. Following these simple tips, adding the right accessories can easily elevate your look.
Conclusion
Clothing accessories are the unsung heroes of fashion, the final brushstrokes that transform an outfit into a statement and your style into a unique signature. Whether you're preparing for a special event, embracing a casual outing, or tackling the demands of the office, these little details make a significant impact. Confidence in accessorizing is vital, and the exciting journey of exploring new pieces that resonate with your true self should be embraced.