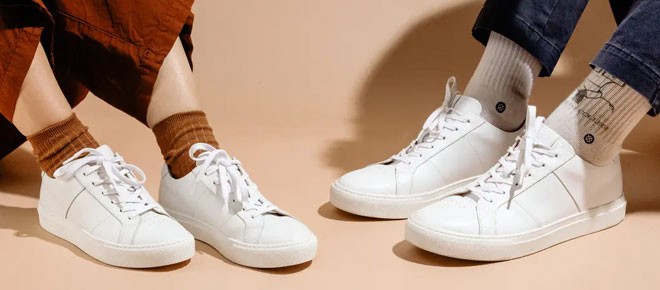 Whether you're shopping for shoes to wear to weddings or looking to upgrade your workout sneakers, the right pair of footwear can make all the difference. From fashion bucket list Manolo Blahniks to tried-and-true Birkenstocks, this guide is a must-read for anyone on the hunt for comfy footwear.
For dressier occasions, strappy heels and classic pumps work well. For a casual date night, try ballet flats or sleek sneakers.
Mary Janes
Whether you wore them as a toddler, in grade school, or during your teen years, Mary Janes are making a comeback—in a big way. The classic strappy style, which has long been a staple for little girls, is now available in flat and heeled versions for women of all ages. Designed to be the perfect accessory for feminine outfits, Mary Janes can also be worn with jeans or skirts and dresses to add a chic and classic touch.
The resurgence of this dainty shoe has seen it grace the runways of designers like Manolo Blahnik, and be featured on many a Hollywood film and TV show, from Sex and the City to Gossip Girl. It's no wonder that this era-defying fashion staple has remained popular throughout the decades. Originally named after the character Mary Jane in the Buster Brown comic strip (drawn by R F Outcault), the shoes were later embraced by young girls and became a must-have for their school uniforms.
Today, the resurgence of this classic shoe is seeing it paired with everything from skinny jeans to wide-leg pants. Nordstrom shoes and accessories director Beth Kanfer suggests wearing Mary Janes with flared jeans to "create a fun look that's edgy, yet chic." The key is to find a pair of shoes with a chunky sole that won't catch on the inside of your hemline.
Ballet-style Mary Janes with a chunky platform sole are on-trend this season and are the perfect shoes for wearing with a wide-leg dress or pants to create a bespoke look that's both classic and contemporary. The best part about this style is that it's as comfortable as a pair of sneakers, making it ideal for a day of running errands.
For a more refined take on the trend, try a velvet version of this classic shoe. The textured fabric makes it more upscale than the standard ballet flats, and the classic color will look chic with any outfit.
Knit Flats
Flats seem to be everywhere in the world of women's footwear: Athleisure (athletic + casual) brands like Lululemon and Nike are churning them out, while brands that don't even specialize in shoes, such as Cole Haan and Skechers, carry iterations of the style on their shelves. But despite their ubiquity, flats are not without issues: Those who wear them to work often tell stories of blistered feet and aching ankles, nursing their heels under their desks, or hobbling home to change shoes. Plus, most flats lack proper arch support and aren't designed to be worn without socks, which can lead to chafing.
Enter the knit flat, a shoe trend that has quickly gone viral. The latest versions of the shoe are made from a soft, skin-friendly material that feels like a pair of socks, and they're machine-washable for easy cleaning. They're also lightweight and slim, making them easy to pack for travel or slip into a bag for running errands on the go.
Invented by Rothy's, a San Francisco-based startup, the knit flats have become the "it" shoe of 2019 and are now available from many retailers. Rothy's shoes have an elasticized topline, a cushioned foam footbed, and flexible rubber soles. The flats are knit in one piece, eliminating seams that can rub and chafe and making them as breathable as your favorite pair of joggers or sneakers.
The shoe's popularity has been explosive: It's Amazon's Choice for women's flats and currently sells in a variety of colors, patterns, and sizes, with prices ranging from less than $30 to $37. In interviews with nearly two dozen fans, almost all said they purchased their first pair because they wanted a comfortable work shoe that looked good. "Flats are a great alternative to heels," says New York-based podiatrist Hillary Brenner, but she warns that even the best flats can cause aches and pains if worn for hours or in the wrong positions. Pepe Jeans Voucher Codes offers trendy shoes at affordable prices. You can check their website for any current voucher codes or promotions to save even more on your purchase.
But unlike some other shoe trends that aren't getting much traction this year, such as dad sneakers and kitten heels, the knit flat seems to be here to stay. That's probably because it's both functional and fashionable. "Knitted flats feel a little bit Zooey Deschanel," says the curator of shoes at Toronto's Bata Shoe Museum.
Allbirds Wool Loungers
If you've been on the hunt for comfy shoes that don't require breaking your wallet, you're going to love these new sneakers from Allbirds. They're made from super soft merino wool, which is both sustainable and odor-fighting. And even better, you can throw them in the wash to keep them looking good and smelling fresh.
The company's first shoe, the Wool Runner, became an instant hit due to its eco-conscious mission and innovative material. Its superfine merino wool is soft, flexible, and sweat-wicking. Plus, it looks and feels like a slipper and is more comfortable to wear than traditional athletic shoes. The company also uses a variety of carbon-neutral and carbon-negative strategies to offset any residual carbon footprint from its production processes.
Allbirds recently expanded their line of shoes to include the lounger, a lightweight sneaker designed for everyday errands and long walks. The $95 lounger is similar to the Wool Runner but more casual and slightly cheaper. Its eucalyptus upper is breathable and flexible while offering the same odor-fighting properties as the original Wool Runner. In addition, the patented SweetFoam sole is made from sugarcane and castor beans for added comfort and energy return.
These new sneakers are available in two colorways, charcoal, and kauri marine blue, with a white sole. They look sleek and minimal with their monochromatic color scheme, which will match most summertime outfits perfectly. They also feature a streamlined, comfortable fit, a padded footbed, and a minimalist logo on the back of the heel.
To avoid odors and staining, Allbirds recommends washing the shoes with cold water and a gentle detergent or fabric softener. They'll also need time to air dry, so you should plan on a few hours if you want them to look their best after a wash. While they're not waterproof, they are safe to walk in light rain and snow — as long as you wear them with socks. If you're worried about the fit, Allbirds suggests sizing up as their shoes tend to stretch out over time. They also offer a no-questions-asked 30-day trial period, so you can try them out and return them if they don't work for you.
FRANKIE4 Woven Mules
Nothing says comfort like a soft pair of slip-on shoes. Rothy's knit flats, for example, are made with recycled materials and hug every part of your foot without being too tight or suffocating. Another top-rated option is Allbirds Wool Loungers, which use extra-soft and superfine ZQ Merino wool to make them the perfect shoe for walking and everyday wear. If you want a dressier option, consider pointed-toe pumps. They elongate your legs and work ideally with dresses, suits, and tailored pants.
Australian label FRANKiE4 shoes are designed by podiatrists and physiotherapists who are on a mission to provide women with the ultimate foot support benefits packed into styles they feel confident wearing. Their shoes are designed with body mechanics in mind, and each style undergoes rigorous testing to ensure unbeatable comfort, fit, and durability.
Show your feet some love with game-changing shoes from FRANKiE4. We love the Nat weave sneakers, the Kass woven mules (a great Galentine's Day gift for your besties), and their striped socks that are both stylish and support a good cause.
Slip Ons
Slip-on shoes are easy to put on and take off, which makes them ideal for everyday wear. They also provide more support than flip-flops or other flat sandals and can be worn in both warm and cold weather. They are available in many styles including ballet flats, loafers, moccasins, and Venetian-style shoes.
Shoes Coupon Code offers a range of affordable shoes for all budgets. You can browse their website to find great deals on budget-friendly shoes. They also offer coupon codes that you can use to save even more money on your purchase.
The foremost difference between slip-on shoes and lace-up shoes is that they have got no laces to tie. They are lightweight and can be paired with a variety of outfits for both casual and formal occasions. They are also comfortable enough for long walks and runs. Additionally, a good pair of slip-on sneakers are made to be flexible and provide arch support to reduce foot pain.
There are so many stylish slip-on shoes for women that are both fashionable and comfortable. One of our favorites is the Wildling shoe from the brand BEFAiR, which provides excellent support and is also very stylish. This shoe features a contoured footbed that includes arch support and dual-density cushioning. It also comes in several colors so you can find the right one to match your wardrobe.
Another great option for a casual slip-on is the Mercer shoe from Madewell. This shoe is a stylish and comfortable flat that looks great with jeans or a jersey knit sundress. It has a soft, velvety feel to it and is available in black or brown leather. These shoes are perfect for date night or a brunch outing with the girls.
Loafers are another slip-on shoe style that can be worn for both casual and formal occasions. They are a classic look that goes back 100 to 400 years and can add nobility to any outfit. They are also a more polished alternative to sneakers or injection molded shoes such as Clogs or Yeezy Runners.
Loafers
Loafers are the go-to shoes for every gentleman who wants to look stylish yet feel comfortable. They are a classic footwear choice and come in different styles, shapes, and materials. They are available online and in many offline stores, making them convenient to buy. Apart from being fashionable, loafers for men provide multiple health benefits including reducing foot pain and improving posture. The cushioned footbed and flexible sole also promote healthy movement. They are a must-have for every gentleman's closet as they pair effortlessly with casual wear as well as business attire.
These shoes are easy to slip on and off the feet without having to worry about tying them. They are also highly comfortable and can be worn for long periods. They can be made of leather or fabric and are suitable for both formal and casual wear. They can also be made of a variety of colors, making them versatile and easily adaptable to any outfit.
One of the most popular types of loafers is the penny loafer. It is a slip-on shoe with a leather strap on top that has a diamond-shaped opening in it. The opening was used by prep students in the 1940s and '50s to place pennies into it, hence the name of the shoe. This type of loafer is typically worn sock-less and can be paired with shorts, jeans, and dresses.
Another great type of loafer is the driving loafer, which is usually worn sock-less and can be styled with everything from denim to suits. They were originally designed to give men a better grip while driving (hence the name) but have become a favorite of gentlemen who want something more comfortable than a typical dress shoe.
Ankle Boots
Whether you're a devoted Chelsea boot girl or a new cowboy boot convert, it's hard to go wrong with a stylish ankle heel. They're comfortable, versatile, and look good with most outfits. You can style them with skinny jeans and a T-shirt for a casual look, or pair them with a long dress and blazer for a more polished ensemble. The only limitation is your imagination.
There are many different styles of ankle boots, so choose one that complements your wardrobe. Lace-up boots hug your ankle and require a tighter fit, while pull-on boots are looser around the ankle and allow you to wear thick socks or hosiery. Booties with side zippers make it easy to slip them on, while buckled and strapped boots offer a more sophisticated look.
Flat ankle boots can be worn with almost anything, including a flowy maxi dress. They're also a great choice for fall and winter to keep your feet warm. Heeled ankle boots look great when paired with skinny jeans. You can even rock a short dress with ankle boots and black tights for a cute and cozy autumn look.
Ankle boots are the perfect footwear for any occasion, from a casual weekend brunch to a night out with friends. Just remember to take a break now and then from wearing heels, so your feet can rest and recover. Also, try to choose ankle boots with a cushioned insole that adapts after each step and cares for your feet' skin. This will help prevent foot pain, blisters, and other common foot problems. You can find a wide variety of stylish and comfortable ankle-heel shoes online from trusted brands.
Sandals
Whether you're taking a stroll along the beach or just lounging by the pool, sandals are a summer essential. They give you all the support of a shoe, but offer a more breathable style and can be worn with anything from shorts to flowing dresses. If you're looking for a pair of shoes that will allow your feet to breathe but still look great, closed-toe sandals are the way to go.
Oftentimes, sandals are categorized alongside flip-flops and sliders, making it difficult to distinguish between them. While flip-flops fit the dictionary definition of a sandal (a shoe with a mostly-open upper that has straps connecting it to the sole) and sliders feature a similar design, there is much more to these footwear styles than meets the eye.
While flip-flops and sliders are a great choice for errand running or afternoons at the pool, other sandal styles are more work-appropriate and formal. Strappy stiletto sandals can be a stylish addition to a cocktail dress, while flat sandals can complement a variety of casual events and occasions.
Sandals have been around for a long time. The ancient Greeks wore them, and the Romans continued to carry on this tradition by adapting the sandal into several different styles. Today, sandals are available in a wide range of materials and boast an array of strap designs, making them a great option for just about any occasion. A good pair of sandals can even make you stand out in a crowd as many people wear sandals to the beach so they don't have to worry about their feet getting covered in sand or being ruined by seawater and other elements.
Conclusion
Nordstrom shoes and accessories director Beth Kanfer suggests wearing Mary Janes with flared jeans to "create a fun look that's edgy, yet chic." The key is to find a pair of shoes with a chunky sole that won't catch on the inside of your hemline. "Knitted flats feel a little bit Zooey Deschanel," says the curator of shoes at Toronto's Bata Shoe Museum. This shoe is a stylish and comfortable flat that looks great with jeans or a jersey knit sundress.