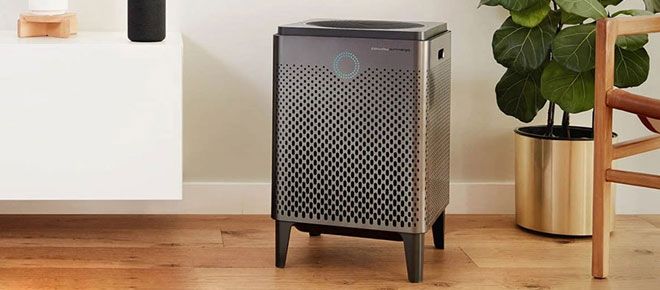 Looking for clean and fresh air? Look no further than the best air purifiers on the market! These machines can effectively remove harmful particles and allergens from the air in your home or office, helping you breathe easier and live healthier. Choose from various models and features to find the perfect air purifier for your needs.
Levoit Core 300S
The Levoit Core 300S is a sleek, user-friendly purifier that's easy to set up and maintain. It's ideal for small rooms or even a child's bedroom and offers some of the most advanced programming features of any air purifier we tested. It's also smart and supports Alexa and Google Assistant voice commands.
The controls are located on the top of the device in a circular layout that's intuitive to navigate. There's an "on / off" button in the middle and various functions around it. All the settings are easily accessible and simple to understand, including a moon-shaped sleep mode that puts the purifier into a whisper-quiet low fan setting that's perfect for bedtime.
We liked that the device uses a three-stage filtration system to clean your air. It has an activated carbon filter, a real HEPA filter, and a pre-filter. For added functionality, Levoit offers a range of accessories that you can swap in, depending on your needs. For example, the US market has a Pet Allergy Filter and a Toxin Absorber Filter.
We also like that the device monitors and displays your room's air quality via its integrated app. You can see the specific PM 2.5 rating of your room, set timers to shut off, and more. We did miss the ability to see other air quality metrics, like gas levels or volatile organic compounds.
Aroeve HEPA Air Purifier
Designed with sleep in mind, the AROEVE HEPA Air Purifier has a built-in night mode that reduces the fan speed and filter rotation rate for a more peaceful indoor environment. The smart sensor also detects pollutants in the air and adjusts its fan speed accordingly.
This purifier boasts a high CADR (Clean Air Delivery Rate) rating of 105 and filters out microscopic particles, unwanted odors, and other allergens from the air. It has a three-speed fan and uses a HEPA filter with activated carbon to remove smoke, pet dander, and other household odors.
One of the best things about this air purifier is that it alerts you when it's time to change the filter – a handy feature for anyone with allergies or asthma. It also comes with a convenient indicator light that shines red when the filter needs replacing.
Another great thing about the AROEVE is that it runs extremely quietly. Its whisper-quiet operation allows you to enjoy reading a book or watching TV without interruption. You can even use it in the bedroom, where a silent purifier is essential for better sleep quality. To make it even more attractive, it has a sleek and stylish design that fits into any home decor.
If you're in the market for an air purifier, look no further than Betta. With their high-quality products and commitment to customer satisfaction, Betta is the perfect place to shop for your air purifying needs. And now, with the Betta Discount Code, you can save even more on your purchase. Don't miss out on this incredible opportunity to breathe fresher, cleaner air while keeping more money in your wallet. Use the Betta discount code today and start enjoying the benefits of an air purifier!
Aroeve HEPA Air Purifier with UV
If you're searching for an air purifier with a bit of extra flair in 2023, look no further than the Coway Airmega IconS. This model features a neutral color that makes it easy to blend into your home's decor and a top plate for charging Qi-compatible devices. It also connects to Wi-Fi, allowing you to use the Aroeve app to monitor your home's air quality status and control the machine remotely.
The IconS is equipped with four stages of filtration to combat a variety of issues. It uses a washable fine mesh pre-filter to capture large particles, followed by a carbon filter that absorbs odors and VOCs, and finally, a true HEPA filter to trap airborne pollutants. The device is also outfitted with a UV light that kills bacteria and a Plasmawave function that disperses ions into the air to destroy viruses and germs.
Its smart technology automatically detects your space's air quality and adjusts its filtration, while the digital AQI display provides real-time insights. Its compact design and low-decibel operation make it a good fit for small spaces, including apartments or bedrooms. It's also compatible with Amazon Alexa and Google Assistant, allowing you to voice-control the device.
Levoit 311+Max
In our testing, the Levoit 311+Max was one of the top performers in terms of its ability to remove VOCs and other chemicals from a small space. It also performed well in our tests of noise level, air quality, and ease of use. In terms of aesthetics, we found it to be a good-looking option that could easily be placed in a bedroom or home office.
The main difference between this model and other Levoit products is that this one has native support for voice assistants like Alexa and Google Assistant. This makes it easier to adjust settings, set programmable timers, and monitor air quality. It also comes with app connectivity that allows you to create Smart Scenes and schedules for automatic action.
With a 360-degree air intake, this Levoit model traps smoke, odors, fumes, and at least 97% of airborne particles 0.3 microns in size including fine dust, pollen, and pet dander. It also has a night mode that drops fan speed to whisper-quiet operation for sleep. It may not be the best choice for those who want a more detailed air quality reading or a way to connect it to their smartphone for in-depth controls.
Home & Garden Promo Code offers a range of affordable air purifiers to help you breathe easier. Whether you're looking for a basic model or something more advanced, you'll find what you need in our selection. Our air purifiers are designed to remove harmful particles from the air, including dust, pollen, and pet dander. They are also user-friendly and energy-efficient. With our promo code, you can save even more on your purchase. So why wait? Invest in your health today with an affordable air purifier from Home & Garden Promo Code.
Aroeve HEPA Air Purifier with Humidifier
Whether you live near a smoker or in an area affected by wildfire smoke, air purifiers can help keep harmful particulates out of your home. Some also double as humidifiers to manage the moisture in the air, which can prevent dryness that irritates your nose, throat, and lips. A few even have a sleep mode for quiet operation, or offer app controls so you can change settings from afar.
This Aroeve model does all of that and more, with a sleek design that looks more like a sculpture than an ugly box. It also has a slim profile and a minimalist control panel that was easy for us to get the hang of. Its compact size and 360° air intake make it a great fit for smaller rooms and kids' or nurseries.
It passed all of our tests with flying colors, improving the air quality from hazardous to safe in just two to three minutes. Its filtration system is a good match for those with allergies, as it targets dander, mold, and dust in addition to tobacco and pet odors. It's not Energy Star certified, though, which means it will use more electricity than other models.
Aroeve HEPA Air Purifier with UV + Humidifier
While most models on this list feature HEPA filters to trap particles, the AROEVE air purifier takes things a step further with UV light for killing bacteria and viruses. It also has a quiet sleep mode and a compact design that makes it ideal for bedrooms, kid rooms, or nurseries.
Our testers found this unit to be easy to set up and use, and it didn't suck up too much energy during our tests. It has an attractive design that can fit into just about any aesthetic and a lightweight build that makes it easy to move from room to room.
It has many smart features, including an app that lets you check and change settings from anywhere, a night mode for low-decibel operation during bedtime, and a mounting kit for hanging it on the wall. It's Energy Star certified and also features a carbon filter to remove odors from your home.
It has a few drawbacks, however. It's a bit pricey, and it didn't do as well in our real-world smoke test, which means you may want to consider other options if you're looking for an air purifier for your home.
Conclusion
Investing in a high-quality air purifier can significantly improve the air quality in your home or office. With so many options on the market, it's essential to do your research and choose a purifier that meets your specific needs. Whether you're looking to reduce allergens, eliminate odors, or prevent the spread of illness, there's sure to be a purifier out there that can help you breathe fresh and clean air all year round.