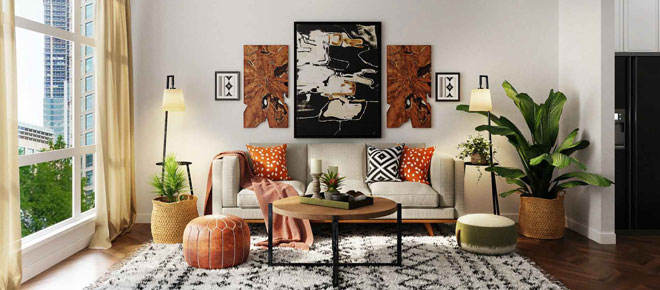 Rather than investing in a new piece of furniture or a whole new living room set, try one of these creative home decoration ideas to elevate your space. From low-lift additions like colorful throw pillows and oversized mirrors to statement-making decor like removable wallpaper and indoor plants, these ideas are easy on your wallet and will leave you with a beautiful, updated look.
Create a Makeshift Mantel
A mantel is a great place for displaying framed photos and other mementos. It can also add warmth and a focal point to a room, says interior designer Abbe Fenimore.
Make a wood mantel with architectural salvage for a rustic feel or craft one from new lumber. Use a level to ensure the lines are straight, and use your favorite stain to match your home's style. Thin tile can enhance a simple mantel design while picking up pattern colors in fabric patterns can complement your decor, suggests interior designer Carissa Miller of CC + Mike Creative.
Use wood glue to hold the 1x10 pieces together and nail them in place. Then, fill the nail holes and gaps with your preferred wood filler (we like Minwax color-changing), and sand. When the wood is smooth, stain it with your favorite finish. And if you're shopping for woodworking supplies or stains, don't forget to check for any available discounts or deals, such as your DecoRug Coupon Codes.
Add Colorful Pillows and Rugs
Adding pops of color throughout your home is a simple way to brighten and refresh your space. From throw pillows to blankets, rugs, and accessories, a single saturated hue can instantly make your rooms feel pulled together and brightened.
Creating a vignette with your favorite pillows and blankets is another easy trick to add more visual appeal to a room. Simply angle a pillow and drape a blanket over a basket to create a beautiful and functional arrangement that showcases both pieces.
If you want to take the coordinating concept further, opt for a tonal range of colors. For example, working with varying shades of blue on your furniture and rugs can bring more depth to the overall look.
Hang Plants
Having a few plants in your home is not only an easy way to refresh a room but also has health benefits. If you're running out of surface space or simply want a unique display for your indoor greenery, try hanging them.
Plants that like to trail or climb, such as pothos and philodendrons, are perfect candidates for hanging. Blogger Martina from Cosy Crib hung a wooden frame above her dining table and wrapped trailing vines around it for a cozy accent.
Screw-in ceiling hooks are another simple option for displaying plants. Just make sure to choose one that can support the weight of your plant. Then, hang it in a location that gets ample natural light throughout the day.
Dress Your Wall With Faux Wallpaper
If you want a bold statement but can't commit to floor-to-ceiling wallpaper, cover an accent wall with patterned paper. This technique is a bit more versatile than painting because you can swap out the paper for a different color or pattern in the future without losing the overall style you've created.
Try using a bright, light-colored wallpaper to physically brighten a dark space. This works best in smaller rooms with few windows or a room that's naturally darker, such as a bathroom or hallway.
Create a striking framed wall with prints, art, or photographs. Or, dress up bare walls with textural accents like wood or stone. When creator Molly of The Honest Home wanted a rustic accent wall in her closet-turned-office, she used faux rock panels to achieve the look with a minimum of effort. This is one of our favorite ways to add texture and dimension to a room.
Add Cozy Fabrics
Whether you choose a comfy throw blanket or reupholster your favorite chair in a luxurious fabric, textiles can make any room feel more cozy. Using family-heirloom quilts as bedding is a simple way to introduce comfort into your bedroom, while framed fabric cutouts can dress up a boring headboard.
When it comes to wall art, don't rely on generic prints or paintings. Instead, showcase framed photos of your loved ones to create a gallery that tells a story and evokes emotions.
Another creative home decoration idea is to add a statement-making element like upholstered stairs. Not only will a tufted staircase look chic, but it will also make for a welcoming first impression when guests walk into your home. This cozy decor idea is perfect for an entryway or a living room that needs a little more warmth. When you're looking for materials or furnishings to implement this idea, consider using your Home And Graden Discount Code to save on your project.
Create a Soft Focal Point
Every well-designed space requires an attention-grabbing focal point. Depending on the architecture, a beautiful view, fireplace, vaulted ceilings, and angled walls are often natural focal points that can be enhanced through furniture placement or decorative additions.
Even a painted front door can be a focal point, especially when paired with lush planters and a welcoming wreath. Wall art can also be a beautiful focal point, particularly when framed with a unique pattern or a mix of prints and paintings that hold sentimental value. Dressing your walls with faux wallpaper or applying a stone or wood effect is another easy way to create a stunning accent wall.
Bring the Outdoors In
Bringing nature indoors is one of the most powerful ways to transform your space. Not only do plants look beautiful, but they also help to purify the air, reduce stress, and improve concentration.
Another simple way to bring the outdoors in is by choosing wood furniture and rugs that are made from materials found in nature. If you're looking for more unique and stylish options, try adding plant terrariums or a green wall to your space.
You can also incorporate natural scents in your home through candles, room sprays, or incense with natural smells such as sage and palo santo. Lastly, you can decorate with elements from nature like rocks, pinecones, branches, and sea shells. This is a fun and creative way to bring the outdoors in.
Create a Statement Wall
A bold accent wall is a great way to make a statement and add enchantment to your home. It can also help anchor your design scheme, solidify your room layout, and draw all eyes to the focal point. Best of all, decorating your feature wall doesn't have to break the bank or suck up your entire weekend.
Paint is one of the simplest and most affordable ways to create a creative statement, but you can get even more intricate with tape and stencils. And if you're in a rental or just like to change things up often, peel-and-stick wallpaper is a quick and easy solution. You can find a variety of colors and designs, so you're sure to find the perfect fit for your space. You can also add texture with a rock or wood mural.
Rearrange Your Books
Home decor isn't just about buying new furnishings, you can also refresh your existing pieces. For example, a simple coat of paint or a new set of hardware can give a dresser or cabinet a fresh look for a fraction of the cost of a brand-new piece.
Adding a pop of color to your walls is another easy way to transform a room. You can try out a bold pattern, or opt for a neutral print like this linen option, which will complement your current color scheme.
This DIY framed string art is the perfect project to tackle on a weekend and will be a great addition to your gallery wall. It's a fun craft that can be used in many rooms, including a playroom, nursery, or teen girl's bedroom. You can even make this cute idea using maps, and it's so easy to do with Mod Podge!
Add a Touch of Elegance
There's no better way to elevate your space than with a touch of elegance. Whether it's an accent wall, a dazzling chandelier, or simply swapping out flush mount light equipment for decorative lanterns, these small touches make your home feel more intentional and polished.
Displaying a set of crisp, white towels like those found in a spa can also instantly lend your home an upscale vibe. Just be sure to pick out towels that feel luxurious without feeling too shabby chic or boho.
Wallpaper is an easy DIY weekend project that can transform your entire room, especially if you go with a subtle design print or mono-colored pattern. Don't be afraid to experiment with texture too, from woven tapestries to macrame wall hangings. You'll never know unless you try! This article was originally published on March 16, 2017. It has since been updated.
Conclusion
there are a variety of creative home decoration ideas that can help you transform your space. From adding a statement wall to incorporating unique lighting fixtures, there are endless opportunities to infuse personality and style into your home. Whether you prefer a cozy and rustic aesthetic or a modern and sleek look, there are decorating ideas that can accommodate any taste. With a little creativity and imagination, you can transform your living space into a comfortable and stylish sanctuary that you'll love spending time in.