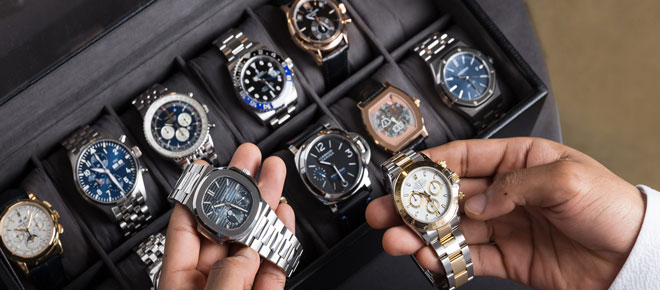 Being a watch lover on a budget doesn't have to be impossible. With a few clever tricks, you can save money on your next watch purchase.
For starters, always look for sales. This is especially true after holidays. You can also use eBay's saved search function to alert you when new watches are available.
Look for deals
Everyone wants to get a great deal, especially when it comes to something as expensive as a watch. However, the good news is that there are many ways to save money on a watch without compromising on quality.
The best way to do this is to look for deals online. This can be done by using websites like eBay, Watch Recon, and Craigslist. These sites will allow you to compare prices and find the best deal.
It is also important to look for reputable sellers. This will ensure that you are getting a watch that is worth the price. Be sure to avoid sellers with low reviews, fake customer testimonials, or signs of bad packaging. These sellers are likely trying to scam you. Be careful when shopping for watches online. anything's true what they say, "If it sounds too good to be true, it probably is.
Wait for sales
When it comes to buying a luxury watch, waiting for sales is one of the best ways to save money. Sales are usually held at certain times of the year, such as during Black Friday or other holidays.
Waiting for a sale can also help you find a better price on a pre-owned watch. Many sellers will be willing to negotiate the price of a watch, especially if they know that you are interested in buying it.
Lastly, waiting for a sale can also help you get a discount on a limited-edition watch. These watches are typically more expensive than other watches, but they can be worth the extra cost if you can buy them at a lower price.
Change the strap
One of the best ways to save money on a watch is by buying a watch that allows you to change the strap. This will allow you to get a new look without having to pay for an entirely new watch.
For example, the Apple Watch has a system that makes it easy to swap out the watch band with different options, such as leather or metal bands. Other Android Wear watches, like the Moto 360, also allow you to change the watch strap with a variety of options.
Changing the watch strap is fairly simple, but it does require some finger dexterity and precision to be done correctly. First, you will need to remove the existing watch strap by detaching the spring bar. To do this, insert the forked end of your watch changing tool between the strap and the lug, and gently apply pressure to compress the spring bar.
Warranty
Watches are available in a wide range of prices, from less than $100 to tens of thousands. As a result, it is important to define your budget before you start shopping.
An excellent method to safeguard your investment is with a guarantee. However, it is important to know that warranties only apply if you buy from an authorized seller.
Many watch retailers offer warranties to their customers, but it is important to read the fine print. For example, some watch manufacturers require that you have your watch serviced by an authorized dealer. These requirements may include a specific length of time between servicing and the need for certain components. In addition, some online sellers may not be authorized to sell the brands they claim to represent. This can be problematic if you need to have your watch repaired in the future.
Second strap
Many watches are sold with two straps - a separate connecting strap and a shortened band. This helps ensure that the watch fits correctly, which is important because baggy watches are a fashion faux pas and straps that clamp down on the wrist inhibit blood circulation. To determine the correct strap length, measure the internal distance between the lugs on the case with a ruler or digital caliper. Then, measure in millimeters (X/Y) and use it to select a strap.
A second strap also allows for more versatility, and when shopping for watch accessories like additional straps, consider using your WatchRapport Coupon to save on your purchase. For example, a dress watch can be worn with a silky-smooth leather strap or a sturdy canvas one for a more casual look. A strap in a different color can also add an element of contrast and style.
Chronograph
A chronograph is a watch that offers a stopwatch function, along with additional features like a tachymeter and pulsometer. This makes them perfect for measuring things like speed and distance. These watches are also great for keeping track of how long you spend stuck in traffic or waiting for your doctor's appointment.
They work just as well with a T-shirt and jeans as they do with a suit and tie. Plus, they look cool.
A chronograph has two push-pieces that allow you to start, stop, and reset the timing function. While you can get a similar function with your smartphone, there is something about watching the hands move and clicking the buttons that give the wearer a sense of accomplishment. This functionality is what makes these watches so desirable.
Date function
If you're in the market for a new watch but don't have much money to spend, there are still ways to get what you want without breaking the bank. One option is to look for a watch that offers a date function. This way, you can keep track of the time without having to look at your phone or clock.
Many digital watches also offer a stopwatch function, which can help time athletic events or other activities. They also often come with fitness tracking features that help you stay on track with your fitness goals. Some even include a countdown timer, which can be useful for keeping track of important dates or deadlines. With so many options available, there's no reason to spend more than you need to on a watch. With a little bit of patience and savvy shopping, you can find the perfect watch to suit your style and budget.
Digital display
A digital display means that the watch shows numbers on a small screen instead of using hands to point to them. This is a more modern technology that many people prefer.
Almost any modern smartwatch can offer a digital display, although some require an Internet connection to work. This allows the wearer to get message notifications and use other functions. It also helps to keep track of steps and other fitness data.
Some smartwatches also include a stopwatch function to help with timing athletic events. This is a great feature for runners and other athletes. Other smartwatches may include GPS navigation, which can help with finding new routes and avoiding getting lost. Some digital watches also include a countdown timer, which is useful for planning events or meeting deadlines. These are all features that can help you save money on your next watch purchase.
Water resistance
Many watches are advertised as being water resistant. But what does that mean? A watch's water resistance is based on its crown, case back, and gaskets. The best way to ensure that your watch is waterproof is to have it tested regularly.
The easiest way to test your watch is to remove the crown and press the buttons (if any). If water seeps in at this point it is likely due to wear and tear or aging of the gaskets.
A watch that is rated 3 ATM/Bars/Metres is splash-proof and will hold up well to accidental daily splashes, showering, and light swimming. But it is not suitable for diving or jumping in a jacuzzi as the sudden change of pressure would be harmful to the watch.
Warranty
A warranty is one of the most important factors to consider when shopping for a watch. This is because a warranty will help protect you against any damage or defects that may occur during the warranty period.
While it's always best to read the fine print, most luxury watches offer warranties that will cover a variety of issues. Warranties are a sign of confidence in the product, and they can help you save money on repairs or even replacements.
Most luxury brands also recommend servicing your watch every two years, and when considering watch servicing, it's a good idea to check for any available discounts or deals, such as your Watch Coupon Code. Having your watch serviced will keep it in good condition and ensure that any issues are addressed before they become more serious.
Conclusion
saving money on your next watch purchase is easy with these 10 tips. From doing research and comparing prices to shopping during sales and considering pre-owned options, there are plenty of ways to find a great deal on a high-quality timepiece. By following these tips, you can save money without sacrificing style or functionality. So start your watch hunt today and enjoy the satisfaction of finding the perfect timepiece at a price that fits your budget.
​