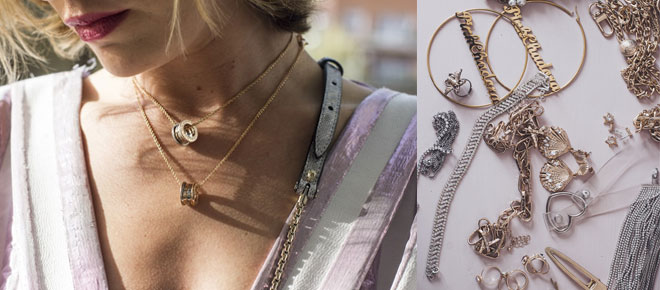 Long a yuppie staple, tennis bracelets have made a comeback with more colorful and luxe options. Invest in one with a statement gemstone or try out a mixed-media style that incorporates pearls and silver.
Earring stacking is back and a major jewelry trend in 2023. Play with studs, hoops, and Huggies, or add some extra flair with a delicately designed cuff.
Colored Jewelry
Whether you're into dainty, delicate gold necklace layering or the more-is-more approach to bracelet stacks, there are plenty of ways to get in on this jewelry trend this season. The trick is to mix and match the metals, textures, and lengths for a personalized look that's both unique and sophisticated. For example, try a single short beaded strand with a long thin chain and a multicolored bead bracelet in delicate metal for a look that utterly nails the early Aughts summer vibe.
Another way to make this trend your own is by mixing in bold bead colors, like orange or rich Biscay green, to enliven a classic piece of silver jewelry. This reimagined style has been seen on the runways at Givenchy (where models wore XL pearl chokers) and Carolina Herrera, as well as on the red carpet by Olivia Palermo.
In the case of bracelets, bold bead colors also work wonders with sculptural shapes, which is one of the biggest trends to watch this season. ISA GRUTMAN has plenty of styles that fall into this category, such as curved arm cuffs and solid oval pendants, both of which feel fresh when paired with oversized tailoring.
As for earrings, this season's big trend is the return of the flower — not just the birth flowers and Carrie Bradshaw-approved rosettes that are already beloved but also edgier versions in deep burgundy and curry red. Sculptural floral earrings are a great accessory for adding a mood-boosting pop of color to a neutral ensemble, and they can also be worn with dresses.
Lastly, we're seeing an emergence of metallic jewelry inspired by snakes, as evidenced by the edgy statement pieces on the runways at Givenchy, Rejina Pyo, and Acne. While the edgy trend will only take you so far, a snake-inspired ring or necklace can be a great way to give an otherwise simple outfit an instant style upgrade.
For those who want to take this jewelry trend even further, we're seeing a lot of full-on body chains this season. Designed to be worn over clothes, as seen at Givenchy and Rejina Pyo, or alone as a bold accessory, this isn't a style for the faint of heart. However, we've noticed that this style can look especially cool when layered with other necklaces or even a chunky necklace in a similar metal to create a layered effect.
Chunky Bracelets
Jewelry is the perfect way to add a little personality and flair to your look, whether it's a fun pop of color or a bold statement piece. The latest trend in jewelry for the fashion-forward is to keep things chunky, with oversized cuffs and layered bangles taking center stage. If you're looking for a more subtle approach, delicate layering is also making a big impression, with dainty bracelets and slim rings helping to elevate simple silhouettes.
Adding an element of humor to your look is another jewelry trend that's making waves. Shoppers are loving whimsical charmed pieces, with brands like Vanessa Arizaga and Lauren Rubinksi showcasing a variety of playful designs. If you're feeling indecisive about which materials to rock, opt for one-of-a-kind mixed-media jewelry. Mixing pearls and silver or resin and gold, for example, makes the ideal option for maximalists and indecisive alike.
For those who prefer a more subtle touch, delicate studs are still in style and make the perfect addition to any wardrobe. Earrings falling to the shoulders or collarbone also continue to be a hit with shoppers, with slender styles helping to frame and highlight your face. 
You can find budget luxury jewelry by using Jewelry & Watches Promo Codes when shopping for jewelry. Many online jewelry stores offer promo codes that can provide discounts on their jewelry items. You can also look for jewelry sales and clearance items to find affordable luxury jewelry options.
Silver continues to have a major moment, with designers like Valentino and Hermes sending sculptural silver chains down the runway. You can take a cue from the catwalk and wear your silver in more modern shapes, such as curved arm cuffs or solid oval pedants. Meanwhile, hoops aren't going anywhere — albeit with a more pared-back feel. Consider a sleek, rounded hoop in silver, as seen on the Jil Sander runway, or try Roxanne Assoulin's chic Bloom bracelet with pastel floral beads that channel a '90s DIY pastime.
If you're looking to make a sustainable and ethical choice with your accessories, you'll want to look no further than the reclaimed-silver trend. The recycled metal helps to reduce waste and pollution, while also allowing the piece to retain its original form and shape. Look for repurposed-silver jewelry from brands like Recycled Gems, Yara Sophia, and Lucy Quartermaine to ensure your style is as eco-friendly as it is stylish.
Delicate Layering
One of the most popular jewelry trends of 2023 is delicate layering. Whether you're sporting a long pendant necklace or a stack of slim rings, delicate layers are the perfect way to add texture and depth to your outfit. Layering can also be a great way to show off your personality, so play around with different lengths and styles of necklaces and bracelets to find the combination that works best for you. Beverly Diamonds Discount Code offers a selection of affordable fashion jewelry options. You can find stylish and budget-friendly pieces in their collection.
Another trend that is gaining in popularity is the use of gold as an accent color. While gold will always be a classic, there is something to be said for pairing it with other colors to create a more modern look. This can be done by adding a pop of color to your necklace with a colorful gemstone or by wearing a bracelet with a pop of color that compliments your other pieces.
In addition to color, the latest jewelry trend that is gaining in popularity is sustainable and ethical jewelry. This trend is a result of the increasing awareness and consciousness regarding environmental impact and social responsibility. Brands like AUrate New York are leading the way in this jewelry trend by offering beautiful and unique pieces made with recycled gold and ethically sourced gems.
Floral-inspired jewelry was a big hit on the runways this season with designers like Carolina Herrera, Acne Studios, and Brandon Maxwell featuring floral-themed earrings and necklaces. While this jewelry trend is a little more edgy than the traditional pearls or gold, it's still very pretty and sophisticated. To make a statement, try oversized floral jewelry in bold colors like bright blue, zingy pink, or apple green.
Oversized pearls are another jewelry trend that is expected to be big this season. These larger pearls are more sculptural and can be worn as an accent piece to a dress or blouse or even layered with other smaller pearls. For a more dramatic look, consider going all out and wearing an Eastern complete set, which consists of a necklace, earrings, bangles, and a ring.
Other jewelry trends that are a bit edgier include chainmail-inspired pieces that pair well with denim and dresses or twists on playful aughts-inspired jewelry. For example, sculptural resin or acetate earrings can be paired with chunky metal cuffs to elevate the look.
Statement Pendants
The jewelry trend we are loving this season is all about the statement piece. Oversized necklaces, earrings, and bracelets are all popular choices that help you create a bold look. Pearl and Clasp have many different styles of large pearl pieces that are perfect for those looking to make a statement with their jewelry. These pieces are great for pairing with simple and elegant outfits, letting the jewelry be the focal point of the look.
The 2023 jewelry trend of layering continues to be a popular choice for many fashion-forward shoppers. This trend involves combining multiple delicate necklaces, bracelets or rings to create a unique and stylish look. Many of these delicate pieces are made of pearls, lace, and other soft materials that add to the elegance of this style. The best part is that you can mix and match these pieces to create the perfect look for you.
Bicep bracelets are a trendy option that has recently come back in style. This jewelry trend is a great way to show off your arms and add a little bit of glamor to your look. These bracelets are made of either gold or silver and can be paired with almost any outfit.
Another trend that is expected to be popular in the 2023 jewelry market is mixing metals. This jewelry trend involves mixing different metals to create a unique and eye-catching look. This trend is especially popular amongst those who are indecisive and can't decide on what metal to wear. The trend is also popular because it allows you to be more creative with your jewelry and add a personal touch to it.
Flower-shaped jewelry is another trend that is gaining popularity in the 2023 jewelry market. This trend includes everything from Carrie Bradshaw-approved rose-shaped earrings to sculptural floral pendants. Floral-inspired jewelry can be worn with any outfit and can add a feminine and romantic touch to your look.
The 2023 jewelry trends are a great way to update your style and add a modern twist to classic pieces in your wardrobe. These trends are easy to follow and can be easily incorporated into your daily style.
Conclusion
Whether you're into dainty, delicate gold necklace layering or the more-is-more approach to bracelet stacks, there are plenty of ways to get in on this jewelry trend this season. Jewelry is the perfect way to add a little personality and flair to your look, whether it's a fun pop of color or a bold statement piece. In addition to color, the latest jewelry trend that is gaining in popularity is sustainable and ethical jewelry.