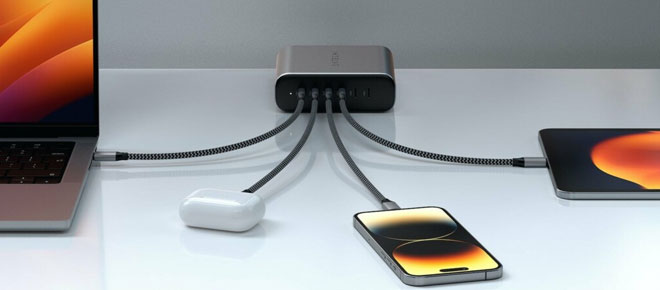 Remote work, also known as telecommuting or virtual work, is a trend that's here to stay. With more and more people working remotely, it's crucial to have the right tools to maintain productivity and improve collaboration.
Luckily, there are tons of office gadgets out there for remote workers to help them keep focused and productive in their home office space!
Power Bank
Power banks are portable battery packs that can charge your devices when you're away from an outlet. They're a convenient solution for people who need to stay connected, whether they're remote workers or off-grid adventurers.
A power bank works by storing energy in the form of a lithium-ion battery, then releasing it to charge your device when you need it. They can be purchased in a variety of sizes and capacities to meet your specific needs.
The battery's capacity is measured in milliampere hours (mAh). Typically, you should choose a power bank that has a higher mAh rating if you want to be able to charge your device multiple times without having to recharge it again.
It's also important to consider the battery's efficiency – this is the percentage of the power bank's capacity that makes it to your device. Generally, efficiency ratings between 80% and 90% are good standards.
Most modern power banks use lithium-ion batteries, which are the same type of batteries that are used in most electronic devices. These are much more durable and last longer than lead-acid batteries, so they're a better choice for long-term use.
There are a few different types of power banks to choose from, including ones with a built-in AC outlet and others that include multiple USB ports. Some of them also have photovoltaic panels that can trickle-charge the internal battery when placed in sunlight.
The best power banks for remote workers are those that offer a large capacity in a lightweight package. They're perfect for people who need a way to recharge their small personal electronics while they're out in the field, commuting, or working on an airplane.
Earbuds/Headphones
If you want to listen to music or podcasts while working remotely, it's best to get a good pair of headphones or earbuds. These devices can help you focus and work better without distractions from the outside world.
The earbuds can be wireless or wired, depending on your needs and budget. Wired earbuds are typically more expensive, but they can last longer between charges than Bluetooth-enabled ones.
Betta Home Living offers a range of affordable office gadgets that can help improve your work efficiency. You can use Betta Home Living Promo Codes to avail of discounts on purchases. Some of their popular office gadgets include ergonomic chairs, standing desks, monitors, and desk lamps.
A quality headset should offer high-fidelity sound, noise reduction, and a comfortable fit to allow you to wear them for hours at a time. They should also have excellent features for communication, including multipoint Bluetooth pairing and a microphone.
Headphones with internal storage are a great choice for working remotely, as they don't require a transmitter. These usually have a micro-SD or Trans-Flash memory slot to store your audio files. They can also play songs without any loss in sound quality, making them ideal for those who listen to lossless/HD audio.
Earbuds are a more popular option than over-ear headphones since they are smaller and lighter. They can also be easily taken with you when you travel, allowing you to listen to your favorite tunes on the go.
They're also a more affordable option than over-ear headphones, which can be more expensive. Some of these earbuds use bone conduction technology, which sends vibrations directly through the bones of your head to your inner ears. This can be more comfortable for some people, but it can cause headaches, vertigo, and dizziness.
If you're looking for a quality pair of earbuds to use while working remotely, try the Plantronics BackBeat GO 810. They're a good choice for those who prefer a more active lifestyle and are equipped with noise-canceling technology that will allow you to keep your concentration while on calls. They're also easy to carry with you and have a good battery life, which is essential for remote workers.
Paper Shredder
With the growing trend of employees working remotely, companies must have a document-shredding strategy in place. This can be as simple as having employees bring home their paper shredder or even having a small, locked container to hold papers that need to be shredded.
Papers such as bank statements, bills, and financial documents contain information that can be used by identity thieves to steal money. Having a paper shredder on hand is essential to protect this sensitive data from theft.
A quality paper shredder will help ensure that your remote workers' sensitive information stays secure and protected while they're at home. They will also be able to reduce their clutter by getting rid of old and unwanted papers, saving them time and energy in the long run.
When shopping for a shredder, consider the following features:
Capacity: If you're regularly shredding hundreds of pieces at once, look for a model that can handle that volume. Machines with higher capacities are typically more expensive, but they'll save you time and effort in the long run.
If you're looking for affordable office equipment, using Office Supplies Voucher Codes can help you save money on your purchases. Simply browse through the available voucher codes and apply them at checkout to take advantage of the discounts. This can help you get the office equipment you need without breaking the bank.
Noise level: The quieter the shredder, the better it'll be for your office environment. Check the decibel rating of your chosen model to determine if it's suitable for your space.
Warranty: Many shredders come with warranties, so it's important to make sure the machine has one. The warranty will ensure that you can continue using the device without worrying about any problems.
Auto-feed: The shredder should be able to automatically feed papers into the machine. This will save you time and hassle because you won't have to feed it by hand every time you need to shred a few sheets of paper.
Backpack
When it comes to remote work, there are a few things that are essential for success and productivity. One of the most important items is a backpack that is equipped to handle remote work. The right backpack can help you get the job done safely and securely, without losing any of your essential remote work gear.
A laptop backpack can also help you keep your laptop, tablet, and other electronics safe and protected while on the go. This is especially important if you travel often or use a hybrid remote work model.
The right backpack will provide you with a dedicated space for your laptop, as well as extra compartments to store other remote work supplies. Some laptop backpacks even have security features to prevent theft.
Another essential for remote workers is a portable USB hub. This will allow you to charge multiple devices with a single plug, saving you a lot of time and hassle.
It's also helpful to have a portable ring light, which can help you feel more professional and confident in your remote working space, even if you don't like being on camera or zoomed in with a video call.
Finally, it is crucial to protect your eyes from straining and fatigue when using technology devices. A pair of blue light glasses can prevent long-term eye damage and headaches caused by staring at screens for extended periods.
Lastly, make sure to have a backup charger for your mobile device in case the power is cut off or there isn't an outlet around. This will save you a lot of time and frustration in the future, especially when working remotely from a new location.
Dual HDMI Monitor
Dual HDMI monitors can be a great asset for remote workers who use a variety of devices in their work environment. They can make working from home much more productive by allowing workers to access two screens for tasks such as multitasking, copying, and pasting, and more.
If you're looking to add a dual HDMI monitor to your workspace, there are several things to consider before purchasing one. First, you need to check if your computer has enough video outputs to support the setup. This is particularly important if you plan to connect a gaming console or other device through your monitor.
Secondly, you need to ensure that your computer has at least two HDMI ports and a DisplayPort port. If you don't, you should look for an adapter that lets you use the existing ports on your PC.
A dual HDMI monitor with multiple ports will allow you to plug in both a console and a computer into the same monitor, making it easy to switch between the devices without having to disconnect and reconnect cables. Additionally, it will save you money by reducing the number of cables that need to be used to connect your devices.
In addition, you can use a monitor with dual HDMI inputs to stream content from your laptop or other devices directly to the screen. This is especially useful for live streaming or recording video.
If you want to add a dual monitor to your desktop, Windows makes it easy to configure the settings. Start by clicking on your computer's desktop and then scrolling down to Display Settings. This will bring up a window that allows you to select the resolution for your secondary monitor. Next, you can choose if you want the second monitor to extend the main display or duplicate it. You can also choose if you want to show the image on both monitors at the same time, or only on one of them.
Conclusion
Remote work, also known as telecommuting or virtual work, is a trend that's here to stay. Luckily, there are tons of office gadgets out there for remote workers to help them keep focused and productive in their home office space! Dual HDMI monitors can be a great asset for remote workers who use a variety of devices in their work environment.