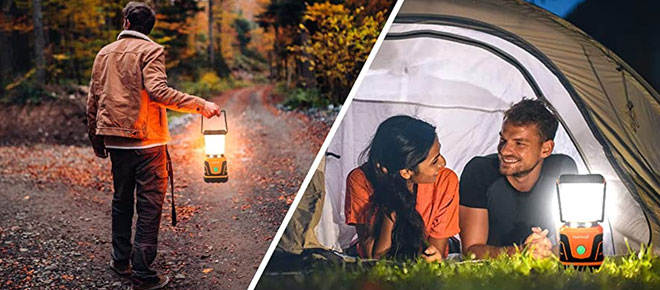 Whether you're in the backcountry or just hanging out at your local campground, a reliable camping light is essential for any outdoor adventure.
Fortunately, there are plenty of great options to choose from. Whether you're looking for a bright LED lantern, an adjustable headlamp, or a dual-fuel design that runs on liquid fuel or unleaded gas, there's something here to meet your needs.
TN12
When you're looking for the best camping light for every outdoor adventure, it doesn't get much better than the TN12. With an array of output levels and a strobe mode, this little powerhouse is ready to handle whatever the outdoors has in store.
ThruNite's TN12 is a dual-switch flashlight powered by a 1 x 18650 battery and boasts five different power modes along with a strobe function. This model is lightweight, with an easy-to-use interface and a USB port for charging.
The TN12 features an XP-L2 LED and SMO reflector for maximum output. The light has a max beam distance of 226 meters and delivers up to 1100 lumens on the brightest setting.
This is a great little light that will be perfect for hiking, camping, and hunting. It's small enough to fit in the most pocket and the lanyard and holster make it comfortable to carry around all day.
Another thing to like about this light is that it has a tail switch. While the post doesn't extend far enough to allow it to tail stand, it's still easy to use and doesn't require a tool. The only downside is that if you have the lanyard attached, it can get in the way of your hands and prevent you from tail-standing.
Other than that, this light is a great addition to any gear bag! It's also very portable, with a sturdy plastic body and an aluminum tail cap.
It also comes with a nice selection of accessories including a holster, a lanyard, and a user manual. The holster has an additional grip ring for added support and the lanyard is a standard style that will work with many different lights from other makers.
This light is a great choice for the budget-conscious outdoor enthusiast, with an affordable price and an impressive feature set that will keep you coming back for more. If you want to save more money on your next purchase, you can use the Sports & Outdoors Promo. 
Tikka
A reliable headlamp is a must-have on any backcountry trek. Whether you're navigating the campsite before sunrise or setting up your tent at night, a headlamp offers hands-free lighting.
The Petzl Tikka is a great choice for all types of outdoor adventures. It offers high and low power settings with a continuous red light, which is great for hunters or hikers who want to maintain their vision in the dark.
It can run on three standard batteries or the new Petzl Core rechargeable battery pack, which gives you even better performance and long battery life. You can also use it as a lantern at the campsite, which makes it ideal for camping trips.
You can adjust the strobe and flashing modes, which is great for emergencies. It's a versatile headlamp that is designed to be easy to use and comfortable.
This light has a bright beam that can reach up to 65 meters away, which is great for night hiking and bike riding. It also features a red LED constant or blink mode for night vision and an emergency strobe that helps you to be seen in the dark.
The Tikka is also one of the most user-friendly lights on the market. Transitioning between settings is incredibly simple, and the straps are super easy to adjust.
It's also very durable, which is important for a headlamp that will be used in harsh conditions. It's rated to last over 10 days in its lowest setting.
Another benefit of the Tikka is that it's compatible with the new Petzl Core battery, which will allow you to maximize your battery life and take full advantage of the light's programmable features. That means you'll never have to worry about running out of light again!
Having tested the Tikka on some of the toughest mountain trails in Montana, it's clear that this headlamp is up to the task. It performed well in a challenging approach to Granite Peak, where we encountered ice, snow, and sand on the trail. It also lasted a long time in its reactive mode, which is excellent for conserving battery life while navigating difficult terrain.
Lighthouse
The Lighthouse is a powerful, rechargeable lantern that doubles as a phone charger and can be charged by hand cranking or using a traditional outlet. It's also ipx6 weatherproof, which means it can handle drops in a puddle or heavy rain without suffering from damage.
The Goal Zero Lighthouse 600 is one of the brightest camping lanterns on the market, and it's a solid choice for a wide range of outdoor activities. It's bright enough to illuminate a 20-foot-x-20-foot tent (or even a large picnic table) and can be regulated to save battery life by only running on half of its output.
It's a lightweight and portable design, which is an important feature when backpacking and packing light, and it comes with a handful of smart charge and recharge features that make it a versatile lantern for both short- and long-term use. It also features a plethora of hanging and standing options, which makes it easy to set up and take down.
Like the TN12 and Tikka, it can be powered by solar, which is an appealing option for backcountry travelers looking for a more eco-friendly design. It's a bit heavier than many other models, though, and it's not a great idea to hang this in your REI Grand Hut 6 tent (it's too thick), but it's a good pick for car camping or other adventures where portability isn't a major concern.
For a more affordable design that's equally lightweight and portable, DENALI Electronics is a great choice. It's a budget-friendly $25, and it delivers bright illumination for a variety of uses around camp. It has a few notable omissions that don't affect its overall utility, however: no charging ports and minimal light modes. You can save more money by using the 4wd Supacentre Discount Code.
If you're looking for a lantern with a few more features than the Luci, consider Goal Zero's Crush Light Chroma, which also boasts eight color modes and "multicolor fade" functions. It's a more budget-friendly option that's also lighter and easier to carry than the Luci, and it includes an integrated solar panel for recharging in the backcountry.
Ledlenser ML6
If you're planning to head out on a camping adventure this year, you'll want to be sure to pack the best camping light for your needs. Whether you're preparing dinner in the dark or just reading in your tent at night, a lantern can make life much easier.
A good camping light will provide reliable nighttime illumination while also being lightweight and compact enough to tuck into your backpack, car trunk, or travel bag. That's why we recommend the Ledlenser ML6, an ultra-lightweight yet robust lantern from Germany-based Ledlenser that offers a host of useful features to Make Every Outdoor Adventure a little bit more enjoyable.
The ML6 has an impressive 750-lumen output, delivering up to 4 hours of powerful, glare-free white light for your nighttime adventures, regardless of where you're going or how far it is from civilization. A built-in hook, removable stand, and magnetic bottom make it easy to set up anywhere you need it.
It comes with a variety of light functions to choose from, including three white brightness outputs and four white flashing modes. It's also got a red output, which can help preserve natural night vision. It's also water-resistant and has a transportation lock that keeps it from accidentally turning on while in transit.
As well as providing a reliable source of night lighting, the Ledlenser ML6 also acts as a power bank to charge electronic devices like phones and cameras. It can run for 4 to 70 hours in low-power mode on a single charge, and it's USB rechargeable so you don't have to worry about finding batteries if you're on an extended trip.
Another great feature of the ML6 is that it's got an emergency distress signal. The light will emit an SOS in Morse code, so if you find yourself in trouble or need to call for help, this handy option is there to save the day.
You can easily adjust the brightness of the ML6 by pressing and holding down the central button until the green, yellow, or red light comes on. The ML6 has an energy-saving low-power mode that reduces battery consumption, and a boost function for maximum output in short spurts.
Conclusion
Whether you're going backpacking in the woods or staying in a campground at the end of the trail, the right light can make your trip safer and more enjoyable.
A reliable spotlight is essential for many backcountry adventures, including searching for a lost tent or fellow camper on the trail. Great options have multiple brightness modes and come equipped with features like strobing or a distress signal.