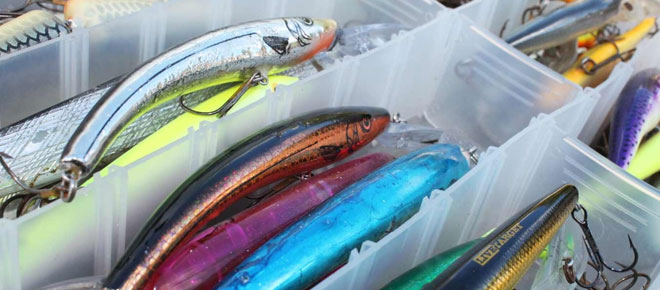 Bass fishing anglers can always benefit from having some proven winners in their tackle box. These baits can help anglers maximize opportunities when the windows of opportunity open up.
Experienced bass anglers know that lure color is important when fishing weedy lakes and rivers. Green-colored lures work best when bass are actively feeding near weed lines and rip rap.
Strike King KVD Slash Bait
Designed by pro-Kevin VanDam this jerk bait provides the perfect combination of roll, wiggle and flash to trigger bass into biting. It comes in a variety of colors and features 3D eyes and premium black nickel hooks. The hard ABS resin body also promises years of use.
If you've ever witnessed a bass tournament on television, you'll see anglers twitching and snapping their rod tips as they fish a bevy of slender minnow-shaped jerk baits. While they may seem ordinary to the untrained eye, jerk baits work exceptionally well when used in certain key situations and at specific times of the year.
These jerk baits are available in floating, suspending, and sinking models to target different depths of the water column. Floating models are ideal for clear waters and shallow bass, while jointed versions move more and are suitable for deeper bass or colder months when they hide in the depths. There's even a deep-diving version that can reach depths of 25 feet, which makes it the best bass lure to target lethargic fish.
If you're looking for affordable fishing gear and equipment, check out Sports & Outdoors Promo Codes for great deals on fishing essentials. With our budget-friendly options, you can enjoy your fishing trips without breaking the bank. We provide all the gear you need, including rods, reels, bait, and tackle. And with our promo codes, you can save even more on your purchases.
6th Sense Squarebill Crankbait
The 6th Sense Squarebill Crankbait is the perfect lure for bass fishing in heavy cover. It features a flat-sided body that creates a unique vibration and rolling action that the bass can't resist. It also comes equipped with a faint rattle core that creates light knocking noises without spooking finicky fish in pressured situations.
The Squarebill crankbait is a great option for Fall bass fishing as they bunch up into hard cover along the shoreline. Bass love to hang out on rocks, logs, dock pilings, and other hard structures in the cool water, making them easy prey for a fast-moving crankbait.
Having several colors of the 6th Sense Squarebill Crankbait on hand will help you to find the right color and conditions for your fishing day. Bright shad patterns work well in clear and dirty water, while crawfish red imitations are a good choice for Springtime bass when they move shallow to spawn and look for an easy meal.
BOOYAH Tandem Blade Spinnerbait
A spinner bait is one of the most versatile bass fishing lures on the market. They're often paired with different blades, jig heads, and skirts to accommodate varying conditions and applications.
This top-of-the-line spinnerbait from BOOYAH features a tandem blade combination of willow and Colorado blade for maximum flash and vibration. The willow blade is on the pin while the auxiliary Colorado blade sits upright to provide extra thump.
The two blades create a unique flash that the bass can't resist. A premium Mustad hook ensures that bass doesn't let this bait getaway. The molded-in flared gills and 3D eyes add to the realistic appearance of this bait. The 55-strand Bio-Flex silicone skirt undulates to create a lifelike baitfish presentation. This is a must-have spinner bait for anyone looking to catch more bass this season. It's a great option for cold, clear, or muddy water conditions.
Strike King Weed Guard Jig
One of the best all-around bass jigs on the market is the Strike King Weed Guard Jig. This jig features a heavy-duty Mustad hook that's perfectly suited for flipping around thick weeds or punching through docks. The stout weed guard minimizes snags and also helps protect the hook point from damage when fishing in tough conditions. This jig is a staple in my boat and pairs well with pork bait trailers like the YUM 3-inch U-Tail Grub.
The Hack Attack Jig from Strike King was designed to fish heavy cover and was specifically built with a weedless head design that can fight through tough environments like lily pads and hyacinths. It's paired with the company's Perfect Skirt for added vibration and lifelike action. This jig is great for straight retrieves or reel-pause-reel retrieves and will prompt ferocious surface attacks from aggressive bass when the conditions are right. The Hack Attack is available in many different sizes and colors.
If you need bass fishing gear, consider using FishUSA Coupon Codes to get a great deal. It's important to have the right gear to make the most of your fishing trip, and FishUSA offers a wide variety of high-quality equipment. Make sure to choose gear that is appropriate for the size of bass you're targeting and the type of water you'll be fishing in. With FishUSA Coupon Codes, you can save money on everything from rods and reels to lures and lines.
Crankbaits
One of the best bass fishing lures you can have in your arsenal is a lipless crankbait. This long-standing standard can be fished shallow or deep, fast or slow, and still calls in slammin' bass. They also often feature loud rattle chambers to amplify the noise of your bait and entice bass into biting.
Round-bill models are ideal for paralleling hard structures, while square bill styles do well when searching eutrophic zones or sandy bottoms. They excel in hot water, and muddy conditions and after heavy rains as the wide wobble they produce helps fish locate them.
They can be paired with a variety of trailers, but a paddle tail swimbait is the go-to for most bass anglers. Match the colors to your local forage like craws or shad and you'll be catching fish in no time.
Curl-Tail Grub
The classic twister tail grub often conjures images of old-timers and kids in lawn chairs toting drinker bass and crappie, but this versatile soft plastic bait also excels at penetrating heavy cover and can draw out bass that doesn't want to come out of the weeds. Rigged on a weighted jighead (such as a Mister Twister tungsten stub) and trolled or cast, the 6" Curl-Tail Grub is a bass fishing staple that should be in every angler's tackle box.
The curl-tail design of this lure allows it to mimic a variety of food organisms that bass cannot resist, including shad, minnows, worms, lizards, and small snakes. It's an ideal lure for triggering bass in cold water or dense vegetation and is especially effective on pond bass, under-pressured urban fish, or super-pressured Mayfly hatches. These grubs also work great on saltwater species, such as striped bass and flounder. A wide range of color variants are available to match the conditions you're fishing in.
Frogs
One of those basses lures that you will often see featured on magazine covers, the topwater frog is best used under certain conditions. It shines in scummy, muddy bodies of water with thick mats of vegetation and excels during scorching hot temperatures. Cast a green, yellow, or black frog into veggie spots and wiggle it across the surface while pausing occasionally to entice bass to strike.
It is important to remember that personal preference plays a huge role in selecting a lure. While it is fun to debate what is the best bass lure, we encourage you to find a lure that works for your fishing style and situation. In some situations like early mornings and late afternoon/night, the bass may move deeper while in others they will be cruising the shallows so it is important to have baits that can produce a strike in each of these conditions.
Topwater Poppers
The profile of a popper is designed to mimic small baitfish and panfish like shad and bluegill, which often congregate high in the water column or just break the surface. Bass love to ambush these creatures and a popper is one of the easiest ways to lure them into striking range.
Poppers also create a chugging sound as they are worked and spit water in small splashes that mimic the appearance of prey fish on the surface. This triggering action is another reason these lures are so effective, even in conditions that may seem unfavorable for topwater fishing.
Many anglers have a favorite saltwater popper they fish with striped bass, but it's never a bad idea to expand your arsenal of topwater lures by adding some new options. Whether you fish for shad, bream, or snook, a variety of colors is always good to have in your tackle box. Just remember that the color of a lure must be matched to the water clarity, sky conditions, and native forage species in your area.
Conclusion
The 6th Sense Squarebill Crankbait is the perfect lure for bass fishing in heavy cover. It's an ideal lure for triggering bass in cold water or dense vegetation and is especially effective on pond bass, under-pressured urban fish, or super-pressured Mayfly hatches. While it is fun to debate what is the best bass lure, we encourage you to find a lure that works for your fishing style and situation.