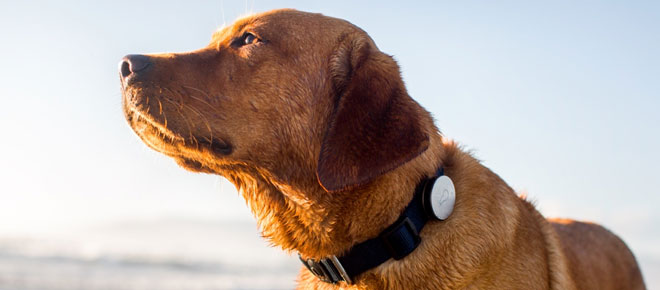 These days, a growing number of dog collars aren't just meant to keep your pet safely in place; they're also meant to help you stay on top of their health and fitness.
Most of these collars offer GPS tracking, activity monitoring, and even training tools to keep your pup in shape. Some even can detect early warning signs of illness, saving you money and time down the road.
Halo 2+ Smart Collar
The Halo 2+ Smart Collar is a revolutionary device that keeps your pet safe and healthy. It's a wireless GPS with features that exceed those of normally invisible fences or shock collars, making it an excellent choice for anyone looking to keep their dog safe and secure.
The collar works by marking 20 virtual fences that are up to 6.2 miles from each other, allowing your pup to roam freely while staying safely inside one or more safe zones. These boundaries can be anything from a house or a fence to a park, and your pet learns to stay within them without straying too far.
If your pet tries to escape the boundaries, the Halo collar will instantly alert you via smartphone and send you a GPS location. It also has many feedback features that encourage them to return and help you locate them quickly.
There are also multiple connectivity options for the Halo collar, including Bluetooth, Wi-Fi, and cellular, so it continues to work even if it loses a connection to your phone or internet service. It also automatically updates its location every second on Bluetooth, 7 seconds on WiFi, and 15 seconds when connected to cellular.
This is a great feature for camping and long expeditions where you might want to leave the dog's collar on. Its improved battery life, which now lasts up to 21 hours instead of the 12 hours in the original version, means you can go longer without having to worry about it dying.
The Halo collar also has a 21-day training program by Cesar Millan, which will help you train your dog to stay in their safe zone regions indoors and outdoors. You can also opt for a premium subscription plan, which includes activity tracking, data storage for the fences, and premium training.
Wagz Smart Collar
The Wagz Smart Collar is a great option for pet owners who want to keep track of their dog's location and activity levels. It has an integrated GPS and accelerometer that tracks the movements of your dog to help you determine whether or not they are in good health. It also features audio recognition which identifies any barking sounds and sends you an alert.
The app has an interactive map that shows you the exact location of your dog. In addition, it allows you to create safe zones so that you can control your dog's movements.
PETstock Promotional Codes offers discount codes on a range of smart pet collars, making them more affordable for pet owners. These smart collars offer various features such as GPS tracking, activity monitoring, and even training assistance. Check out the PETstock website to see their current range and take advantage of the promotional codes while they last!
It also offers a variety of correction modes, such as vibration, tone, and shock, which can be adjusted within the app. You can even choose to use humane correction with ultrasonic sounds, which are only audible to your dog but can be very effective at keeping them inside of their safe zone.
Another great feature is its ability to connect with Alexa devices, allowing you to use voice commands for one-off tasks such as sending a manual correction or asking for information on your device. The app will give you verbal lead-ins for these commands so that they are as easy to use as possible.
The app also provides real-time GPS tracking, which is a great feature for dog owners with larger properties or areas that may be more difficult to locate. This can be especially helpful if you are worried that your dog might escape from their fenced area.
Tractive GPS Collar
The Tractive GPS Collar is an affordable and robust device that can be used for tracking your pet as well as monitoring its health. It offers many app-based features including virtual fences, live mode tracking, sleep monitoring, and activity levels.
The best part is that it costs only a fraction of the cost of other smart collars, and it's also very easy to use! It attaches to your dog's collar and connects to cell towers to transmit their location. The Tractive app will then tell you where they are in real-time.
If you're a dog owner, you know how hard it can be to keep tabs on your furry friend. Whether they're prone to running off, don't do well on walks, or are your regular companion on camping and hunting trips, keeping them safely within reach can make all the difference.
With the Tractive GPS, you can track your pet's whereabouts in real-time and create virtual fences around a specific area. This feature can be especially useful for hiking, camping, and hunting, as it removes the stress of navigating your dog's surroundings when they're lost.
Another great feature is that it can make a sound or turn on a small light if you're trying to find your pet. This helps your dog find the tracker quickly, which can be very helpful if they've become separated from you in a thick forest or at night.
The Tractive device is very sturdy, and it can be clipped onto just about any collar or harness. The tracker itself is a tiny, lightweight unit that weighs only 1.2 ounces, which means it won't be cumbersome for your dog to wear.
SpotOn GPS Collar
SpotOn is one of the most popular GPS dog collars on the market and it offers several unique features that make it a must-have for dog owners. It uses patented True Location technology which allows it to connect with four satellite navigation systems simultaneously (GPS, Galileo, GLONASS, and Beidou) making the GPS more accurate than other collars that rely on just a single satellite system.
The SpotOn collar comes with a manual that explains how to set up and use the collar. To start, the collar needs to establish a GPS connection which can take up to 3 minutes. Once established, you can walk the boundaries of your property or draw them on the app.
You can create as many fences as you want, and you can even customize the perimeter to curve around flowerbeds or off-limit areas. The collar also has a pause feature that lets you stop creating fences when your dog is near an obstacle like a thick brush or water.
Another cool feature of the SpotOn collar is that it has a long battery life of up to 22 hours. This makes it perfect for dogs that spend a lot of time outdoors and need to be able to roam without worrying about the collar dying on them.
The collar also comes with a 45-day money-back guarantee. This is an excellent feature that shows that the manufacturer cares about their customers and wants to ensure that they get the best product possible for their pets. Additionally, the collar is fully waterproof and it does not fall off easily. This is great for dogs that love to play and splash in the water.
It's great that you're looking for affordable pet products! Pets Discount Codes might be able to help you save money on your purchases. Keep an eye out for deals and promotions, and remember to use the code at checkout to get the discount. Happy shopping for your furry friend!
Pet Tracker
Smart collars let you track your pet's location, detect their activity levels and even measure their heart rate. These devices can also send you health alerts if they're ill or have other signs of distress.
If you're looking for a good smart collar, look for one that's waterproof, has long battery life, and is easy to set up. You can also opt for a model that offers live tracking to keep you informed of where your dog is at all times, though these tend to drain the battery fast.
Moreover, you should look for trackers that are lightweight and can fit dogs of all sizes. This is especially important if you have an active pup, since the more the tracker weighs, the more it will likely slip off its collar.
Another important feature to consider is if the device will be waterproof since you don't want your dog to get lost on a beach or in salty water. This particular pet GPS tracker has a waterproof rating of IP68, which means it can survive the ocean, salty water, and rain.
Aside from this, the app has a lot of features to help you keep track of your pet. For example, you can set up Virtual Fences to keep your pooch inside the house, and you can also set up a "Fitness Zone" to make sure they're getting enough exercise.
Other helpful features include an SOS button and geofencing alerts. You can also ring the tracker remotely if you have trouble locating it. Lastly, the device has low-battery alerts. These can be useful if you're planning to leave your pet home alone or on vacation.
Conclusion
The Wagz Smart Collar is a great option for pet owners who want to keep track of their dog's location and activity levels. The Tractive GPS Collar is an affordable and robust device that can be used for tracking your pet as well as monitoring its health. SpotOn is one of the most popular GPS dog collars on the market and it offers several unique features that make it a must-have for dog owners.