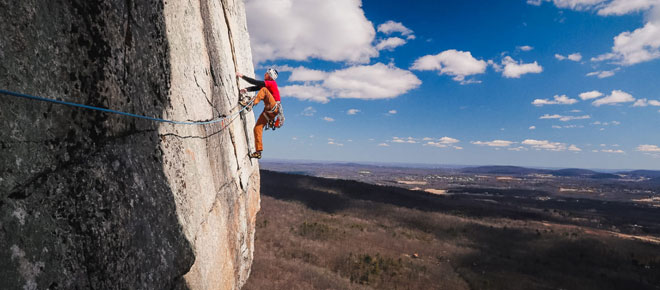 With climbing becoming a popular sport across the world, there are so many incredible rock and mountain climbing destinations to choose from. Some are well-known and have long been established while others have only recently emerged as major climbing destinations.
The Central Appalachia region in the US is home to some of the best up-and-coming destinations for climbers. These are places where striking landscapes meet quality rock and a friendly community.
Yosemite
Yosemite is home to some of the world's most impressive and iconic rock formations. From towering granite cliffs to giant sequoia trees, the park is filled with natural beauty that will leave you breathless.
Most of the rocks in Yosemite are granitic, a type of plutonic igneous rock formed when molten magma cools underground slowly over millions of years. They're characterized by their "salt and pepper" appearance, with felsic minerals like quartz, potassium feldspar, and plagioclase feldspar on one side of the spectrum and mafic minerals such as biotite and hornblende on the other.
You can climb some of Yosemite's famous rock walls and peaks (including El Capitan, Half Dome, and Clouds Rest) from the Valley floor, but there are also more off-the-beaten-path routes to explore. Climbers from around the globe visit Yosemite each year to test their climbing skills against these soaring granite towers.
The best time to climb in Yosemite is in the fall when the weather is cooler and the colors are brighter. There's less crowding, too, making it easy to find your way to popular destinations.
There's a reason that Yosemite has been called the "Garden of Eden." Not only is it home to some of the world's most beautiful landscapes, but it's also an important habitat for plants and animals. It's a place for hiking, camping, rafting, fishing, stargazing, and even snowshoeing and skiing!
Joshua Tree
Joshua Tree is a popular destination for rock climbing and hiking with thousands of soaring cliffs and rocky formations. It's also a popular spot for stargazing, with a clear night sky and an abundance of stars to see.
One of the most unique features of this park is its geologically sculpted rock formations that are formed by millennia of wind and water. The most awe-inspiring of these is the Arch Rock.
This rock is a natural landmark and is easily accessible by hikers who head to White Tank Campground or Twin Tanks Parking Area. The trail is a half-mile out and back, and it offers great views of the surrounding desert.
The park is home to many wildlife species, including bighorn sheep and sand foxes. These can be spotted along trails like the Barker Dam Trail and Wall Street Mill Trail.
Buyagift Promo Code offers a variety of mountain climbing experiences at different price ranges. You can use a promo code at checkout to get a discount on your purchase and save money. It's a great way to stay within your budget while still enjoying an exciting adventure.
Another fun activity in the park is birding, where you'll likely spot some of the region's year-round resident aviary species, as well as brightly colored warblers and birds of prey as they migrate. The park is also a top-notch place to see the Perseid meteor shower in August, which draws climbers and photographers from around the world.
The great time to go to Joshua Tree is overdue fall and early spring while temperatures are cooler and crowds are at their lowest. These months are ideal for hiking and camping, but be sure to pack warm layers if you're planning on spending much time outside.
Ten Sleep
Ten Sleep Canyon, located in north central Wyoming, is home to a large inventory of bolted sport climbs. The canyon consists of huge bands of dolomite (similar to limestone) that flank a wide canyon, offering plenty of routes for beginners to advanced climbers.
Ten Sleep is a very popular climbing destination with hundreds of aesthetic climbs that are crimpy, pocketed, and well-bolted. Generally, the routes are around 60 meters long and can be found throughout the canyon.
The most comprehensive guidebook available is Aaron Huey's Wacky 2nd edition, but you can also find plenty of information online and with local guides. The climbs are mostly single-pitch, but there are a few multi-pitches in the canyon.
One of the most important things to know about Ten Sleep is that it's a very lighthearted, friendly, and relaxed community. That's why the route names are often gimmicky, irreverent, and off-color.
While the climbs are a lot of fun, Ten Sleep isn't a place for serious trad or traditional rock. Most of the routes are slab-y and tend to be quite steep.
In the past few years, many heavily manufactured routes have surfaced in Ten Sleep, and a group of climbers called a meeting to discuss the issue in 2018. Louie Anderson, a guidebook author who moved to Ten Sleep from California in 2016, and his wife Valarie have been at the center of the controversy, with many in the climbing community accusing them of manufacturing their routes.
Squamish
Squamish is a popular Canadian tourist destination known for its mountain climbing and biking opportunities. Situated at the northern tip of Howe Sound, it is surrounded by beautiful mountains and dotted with islands.
The city is home to the Stawamus Chief, a huge granite monolith that attracts climbers from around the world. The city also has a wide range of other outdoor activities and attractions that make it a great place to visit.
Another major attraction of Squamish is the Sea to Sky Gondola. This is a fun activity for all ages and has fantastic views of Howe Sound and the surrounding mountains. There are many different tours to choose from, but this one is by far the most popular and will give you the ultimate thrill!
If you're looking for a more leisurely option, horseback riding is another great way to get outside in Squamish. There are several tours available to choose from that will take you to some of the most stunning areas of the town.
If you're looking for a budget-friendly adventure, look no further than the Sports & Outdoors Discount Code! With our discounts, you can save money on outdoor gear and equipment for all your adventures. Whether you're hiking, camping, or exploring the great outdoors, we've got you covered. So grab your gear and get ready for an affordable adventure!
You'll also want to try out a bit of hiking. There are plenty of hiking trails in the area and you can easily spend a day exploring this beautiful area.
Squamish is also a popular filming location for many films and television shows including Free Willy 3: The Rescue (1997), Insomnia (2002), Before I Fall (2015), Walking Tall (2004), Chaos Theory (2008), and the Twilight Saga: Breaking Dawn - Part 1 (2011). It is also a popular destination for kiteboarding and windsurfing.
Smith Rock State Park
Smith Rock State Park is one of Oregon's Seven Wonders and a popular destination for travelers to hike, climb, and bike. This 650-acre park features towering spires and a deep river canyon, making it an ideal spot for outdoor lovers to explore.
There are numerous hiking trails at Smith Rock, offering stunning views of the rust-colored cliffs and the Crooked River that winds around them. Misery Ridge is one of the most famous hikes in the park, with breathtaking panoramic views of the imposing rock formations and the winding Crooked River.
Another great trail is the Rim Rock Trail, which offers a unique perspective of Smith Rock. This paved trail is just 0.5 miles from the Welcome Center and offers a scenic view of the park's most prominent pillars.
Whether you're just starting climbing or are an expert, there are plenty of exciting routes to choose from at Smith Rock. The park's volcanic tuff and basalt rock formations offer the perfect surface for adventurous climbers, with some routes reaching 600 feet high.
The Red River Gorge
The Red River Gorge, nicknamed the "Red," is home to an incredible geological wonderland of towering sandstone cliffs and rock shelters, a plethora of natural bridges, and hundreds of waterfalls. It is a popular destination for hiking, camping, wildlife viewing, and of course rock climbing.
The gorge has over 60 miles of trails that range in difficulty from easy to advanced. There are also a variety of campgrounds, many of which are within walking distance of the best climbing spots in the area.
If you are planning to climb the Red River Gorge, consider hiring a guide or outfitter for the trip. These guides will take care of everything you need for your adventure and help you plan out a route that suits your skill level.
There are a lot of great crags in the area, with more than 1,600 bolted sports and traditional routes to choose from. Some are owned by the Red River Gorge Climbers Coalition (a group of local climbers) while others are private property.
This region is very popular with climbers, so it can get crowded, but there are several options for lodging. Koomer Ridge campground is a good choice, but there are also primitive and RV campsites nearby.
If you're looking for a thrill, try the Ferrata, which combines rock climbing with cable systems to provide hand-and-foot holds. This is a fantastic way to experience the beauty of the Red River Gorge without the risk of falling.
Conclusion
With climbing becoming a popular sport across the world, there are so many incredible rock and mountain climbing destinations to choose from. Smith Rock State Park Smith Rock State Park is one of Oregon's Seven Wonders and a popular destination for travelers to hike, climb, and bike. It is a popular destination for hiking, camping, wildlife viewing, and of course rock climbing.