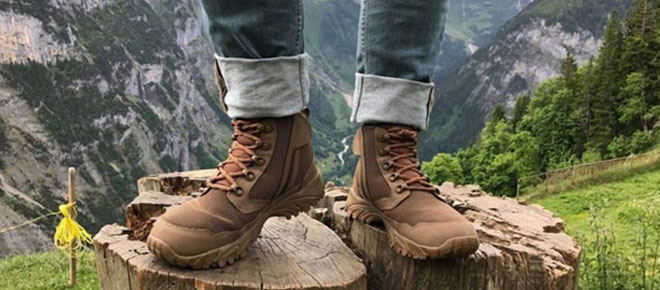 If you're traveling abroad or on an outdoor trip, a pair of comfortable shoes can make all the difference. Whether you're walking across cobblestones in Croatia or hiking through the hills of Greece, your footwear can be the difference between a successful holiday and one that leaves you feeling exhausted.
Comfort is Key
Traveling abroad can be exciting, but it can also take you out of your comfort zone. This means you have to adapt to new languages, understand how different cultures operate, how ask for help in foreign countries, and how to handle situations that might be uncomfortable.
One of the best ways to overcome the challenges that come with traveling abroad is to keep your feet comfortable. That way, you can keep walking and exploring the world.
Ideally, you want shoes that are well-fitted and offer decent support to make sure your feet stay pain-free for the duration of your trip. You also need to consider what type of terrain you're likely to be walking in, whether it be a busy city or a rocky, remote area.
Sole Traction
Sole traction is an important consideration for anyone who spends time outdoors. If you're not careful, you could end up with shoes that slide around, causing you to fall and possibly hurt yourself.
The best way to test a shoe's traction capabilities is by getting outside and walking around. A few minutes of brisk walking will reveal if your shoes have enough traction to get you safely around the next curve or bend in the trail.
Sole traction is a challenge for many outdoor enthusiasts, but luckily there are some simple tricks to make your shoes less slippery on ice or snowy surfaces. The best solution is to invest in a pair of mid-sole traction devices that will fit on any size shoe. They're lightweight, convenient, and can give your feet the bonus of a little extra traction in a pinch.
Style
Whether it's a business trip to a new city or a relaxing weekend getaway, style is key when you're traveling abroad. Adding a splash of panache to your outfit with a few key pieces, such as a bold-faced necklace and matching watch, can have you looking and feeling your best at every turn.
Choosing the right footwear is crucial in ensuring a comfortable and enjoyable trip. The best shoes in this category feature a blend of technology and style - think water-resistant materials, breathable membranes, and a shoe that's light enough to tote around on the go. A good pair of outdoor shoes will withstand the test of time if you treat them with respect and care. The best way to do this is to buy quality shoes in the first place, as a cheap pair could be the stumbling block to an otherwise great trip.
Easy To Pack
Regardless of whether you're bringing heels, boots, or sneakers, shoes are an essential part of your travel wardrobe. That's why it's important to pack them correctly so you don't have any trouble with squished shoes while you're on the road.
You can make packing your shoes easier and more efficient by using a few simple tricks. Start by storing them heel-to-toe, just like you would in shoe boxes.
Another trick is to cram rolled-up socks or underwear inside the shoes. This will help prevent squishing and keep them from being damaged.
You can also reuse the plastic bags that you get with your daily newspaper to store your shoes in. This is a really handy and inexpensive way of packing your shoes while you're on the go. It will save you a lot of space and hassle!
Looking for great deals on outdoor and tactical shoes? Look no further than Cotosen Discount Codes! We have an amazing selection of shoes at discounted prices that will help you save big. With our collection of tactical and outdoor shoes, you can be sure to find the perfect pair for all your outdoor adventures. Plus, with our amazing discounts, you'll be able to get the best deal for your money. Shop now and get the shoes you need at a price you can afford!
Comfortable Insoles
Comfortable insoles are an essential part of wearing a shoe for long periods. They help redistribute pressure in the feet and also improve foot posture, which can be beneficial for the rest of your body too.
Insoles can be made from a variety of materials, such as memory foam and silicone, that are shaped to fit the specific shape and size of your feet. They may be designed to provide arch support, reduce pressure on the ball of the foot, or absorb shock.
If you need an extra cushion, look for insoles that are a little on the thicker side. These can help prevent foot fatigue on long hikes.
Anti-Slip Sole
One of the most important things to consider when you are buying shoes for travel is to make sure that they have an anti-slip sole. This will help you avoid slipping or falling on greasy or slippery surfaces.
A good pair of non-slip shoes will have a softer rubber sole that can grip the floor even when wet or oily. Alternatively, they may have an open tread pattern that channels moisture out from under the shoe and enhances its grip.
These shoes are perfect for those who spend a lot of time walking around or on rough floors. They also work well for those who enjoy hiking, jogging, and other activities where they need to be steady on their feet. They are also very lightweight and flexible so they absorb shock and prevent fatigue. This makes them the ideal choice for traveling abroad or going on outdoor adventures.
If you're looking to save money on outdoor shoes and tactical accessories, Check out Apparel & Clothing Promo Codes! Here, you can find special discounts, coupon codes, and other great deals that can help you save money on the items you need. Whether you're looking for shoes, tactical gear, or anything else, Apparel & Clothing Promo Codes is the place to go for savings. Shop now and save!
Water Resistant
Water resistance is important when you're traveling abroad or when you'll be outside in wet weather. If you're running errands, walking, or doing any kind of outdoor activity that could leave your feet exposed to water, it's essential that your shoes can keep you dry.
There are three main categories of waterproof footwear, which all have different levels of protection. The most basic is the water-repellent category, which prevents some water from getting through, but it isn't impermeable like a waterproof shoe.
On the other hand, a waterproof shoe is completely impermeable to water and will not allow water to soak through it no matter what. It is essential to make sure that you're choosing the right type of waterproof boots for your needs. It's a serious issue, especially when you work in an industry where hazards are a constant part of your job.
Wet weather can be a huge problem for travelers, so it's important to select shoes that are waterproof and breathable. Depending on the climate, you might need a pair of boots for colder countries, hiking boots for warmer ones, or lightweight shoes for warm weather and rainy days.
Waterproof sneakers are often a good choice for travelers, but you should always choose those that fit well and have comfortable insoles. This is especially important if you have bunions, plantar fasciitis, diabetic neuropathy, a sports injury, or feet of different lengths.
These vegan-friendly Aleader Mizzle runners are water-resistant with a merino wool upper, natural rubber trackpads for extra grip, and removable insoles. They're also lightweight and easy to pack.
Lightweight
A lightweight shoe can make a huge difference to your overall comfort and enjoyment. The right shoe can also help prevent injuries and blisters, especially if you're planning to spend a lot of time walking or running.
Lightweight shoes come in a variety of styles and materials, so it's important to choose the best option for your needs. For instance, a pair of breathable waterproof hiking boots can be a great choice for a long, cold hike in the mountains.
The right shoe can also be a great travel partner, so look for ones that are suitable for city walking, short easy hikes, and a visit to an amusement park. A versatile pair of travel shoes can save you time and money by allowing you to only pack one pair for your trip. It's worth remembering that shaving ounces sometimes reduces long-term durability, so if you're going for a multi-miler or plan to carry a heavy backpack, be sure to pick a pair with a thicker sole.
A good pair of travel shoes can mean the difference between a successful trip and a disaster. Having lightweight shoes that can fit into your carry-on bag is key to making the most of your space and not getting hit with extra fees by the airline.
When it comes to travel footwear, comfort is always at the top of the list. This is because big adventures can take a serious toll on your feet, especially when you're walking around all day or climbing endless flights of stairs.
Thankfully, many new designs have been created to make the most of your feet while still looking good. Some of the best include a clever sock-less design, water-resistant materials, and a low-profile design that allows you to slip them on and off without a problem. The most important part is choosing the right style for your needs!
Conclusion
When it comes to traveling abroad or outdoors, it's important to think about what your needs are and what you want from your shoes.
Choosing the right footwear for your trip can make a big difference in how comfortable you feel, and it can also affect how easy it is for you to explore your destination.