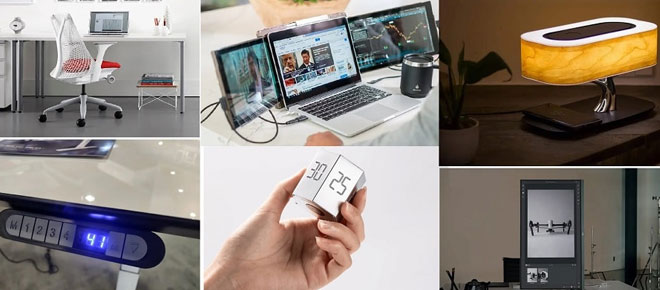 Whether you're working from home or in an office, these cool gadgets will enhance your workspace. They'll boost your productivity, make your work-from-home experience easier and more enjoyable, and help you maintain a healthy work-life balance.
If you like to take notes and sketches by hand, a digital notebook can be a great alternative to paper. These devices capture and share your notes automatically when you jot them down, making them easy to keep track of.
Saiji Tablet Holder
The Saiji Tablet Holder can enhance your home office by allowing you to adjust the height of your tablet, and it's compatible with all iPads. It also prevents your tablet from getting scuffed and scratched while in use.
Whether you're watching videos or using it as a sales terminal, the Saiji tablet holder is sure to provide an ergonomic and comfortable experience. It's also a great gift for your loved ones and can be purchased online at Ubuy Ethiopia.
A tablet stand is a must-have for any modern home or office. Its main function is to allow you to view your tablet at eye level, which makes it ideal for viewing pictures or videos while reducing neck and back strain.
Philips Hue
The Philips Hue is a great smart lighting system that can add a touch of elegance to your home office. Its extensive line of bulbs and lamps offer a wide range of styles, from dimmable white hues to color-changing RGB options.
The best thing about Hue is its open approach to software, allowing third-party developers to add new functionality. That's led to a variety of apps that can control your Hue lights, including Hue Entertainment and Hue Sync for macOS and Windows PC.
With Hue Entertainment, you can sync your lights with music, TV shows, and movies on a computer. This lets you create an ambiance that matches your favorite entertainment and makes it feel like you're at home when you're not.
Smarson SmartPen
If you need a way to digitally convert your handwritten notes, the Smarson SmartPen is an excellent option. It digitizes every word, doodle, sketch, or scribble that you write and transmits it to your phone or tablet via Bluetooth.
Whether you're in college, working in a company, or a salesperson, taking notes is an important skill to have. With a digital pen, your writing becomes easy and portable to take anywhere!
Livescribe's Pulse, Echo, and Sky wifi smartpens all work on the same mechanism. They all use a tiny camera that scans the dot pattern on specially marked paper.
Manhattan Flower USB Hub
The Manhattan Flower USB Hub is a fun little gadget that will make your deck look great. It comes in a variety of colors and has 4 ports that rotate 180 degrees to create an interesting design.
It's also got a bit of power, thanks to the dual batteries included, so it will keep your gadgets charged up at all times. This is especially useful if you're traveling and don't have access to a wall outlet, as it will prevent the clutter that can occur with USB wires.
The Manhattan Flower USB Hub is one of the coolest gadgets we've seen, and it's a great way to spice up your workspace. The best part is that it's small enough to fit into the palm of your hand! Be sure to check out our full collection of tech gifts for your home office.
Betta Home Living offers a range of budget-friendly office tech and gadgets. With the Betta Home Living Discount Code, you can get even better deals on these products. Some of the budget-friendly office tech and gadgets available at Betta Home Living include printers, monitors, laptops, and keyboards. Don't forget to apply your discount code at checkout to save even more!
Whale-Shaped Stapler
The Whale-Shaped Stapler is a fun desk accessory that will brighten up your workspace. It is made from nickel-plated steel and comes with 1000 staples.
This classic Klizia 97 stapler is designed by Ellepi and manufactured in Italy. It is easy to use and is a lot different from the boring old variety stapler.
It has a patent anti-jamming device which will ensure you don't have any trouble with staple jams!
The iconic Klizia 97 stapler has been a favorite among stationery lovers since it was introduced in 1977. It is powder-coated with a durable colorful finish and is hand-assembled in a four-person factory.
Meural Canvas II
Combining modern design, state-of-the-art technology, and passion for art all over the world, the Meural Canvas II brings you a dynamic and evolving art library of more than 30,000 works. You can upload your NFTs or mix and match images from Meural's vast collection.
Meural's 1920 x 1080 HD display is anti-glare and supports strong off-angle viewing. It also has a Micro USB port for charging or plugging in storage.
The Meural Canvas II comes in a variety of frame sizes, including 21.5-inch and 27-inch options. There are also four different color options, including black, white, light wood, and dark wood.
Innogear Aromatherapy Machine / Humidifier / Mood Lamp
Aromatherapy is an effective way to improve the health of your family and your home. It can reduce stress, improve sleep, and boost energy levels.
This Innogear diffuser uses ultrasonic technology to diffuse essential oils into your air, making it smell calming and relaxing. It also functions as a humidifier to evenly humidify your space.
It also comes with 14 adjustable mood lights that can cycle through or be fixed on a certain color, which will help you create a calming atmosphere. It's a great gift for anyone who wants to enhance their home with an aromatherapy diffuser.
Sony Noise-Canceling Headphones
Noise-canceling headphones can save your life, especially if you work with chatty coworkers, commute on noisy public transportation, or fly. These Sony headphones use two tiny microphones on their outer shells to listen for noise around you and essentially cancel out any background sounds that might otherwise interfere with your focus.
They can even be controlled using a series of taps and swipes. Unfortunately, they don't always register these taps, so they're a bit slow to respond.
They also have a nice suite of smart features, including Bluetooth multipoint to allow you to pair them with both your phone and computer simultaneously. They also support Sony's LDAC audio codec, which transmits at three times the speed of conventional Bluetooth, for better-sounding audio.
Smarson SmartScanner
The home office is where many modern professionals work these days. This is a great thing, but it also means that more people will need to have a top-notch scanner. Fortunately, there are a lot of great options to choose from. Having a quality scanner in your home office can be the deciding factor between a good day at the office and an average one. To get the most out of your office scanner, here are a few things to consider when comparing the best options.
There are many budget-friendly office gadgets that you can purchase using an Office Supplies Promo Code. Some options include a wireless mouse, a compact keyboard, a portable charger, and a desktop organizer. You can also check out the sale section on the Microsoft website for additional discounts on office gadgets.
First, the best scanners will be space-efficient to boot. This is especially important if you live in a small apartment or condo, where every square inch of floor space counts. Another feature to look for is the ability to scan multiple types of documents, such as receipts and invoices. A quality home office scanner will be able to process these documents at rates up to 40ppm with an image fidelity of 300 or more dots per inch.
Saiji Bluetooth Speaker
If you work from home or you just want to be able to listen to music anywhere, then you should invest in a Bluetooth speaker. These speakers are small in size and can be easily carried wherever you go.
These speakers also come in sleek and edgy designs. They are perfect for any room and can be easily placed in a corner to enhance the interior.
These speakers connect to your source device via Bluetooth and start playing your favorite song or video in just a few seconds. These speakers are easy to use and can be used without any technical knowledge.
Conclusion
Whether you're working from home or in an office, these cool gadgets will enhance your workspace. The Saiji Tablet Holder can enhance your home office by allowing you to adjust the height of your tablet, and it's compatible with all iPads. The Philips Hue is a great smart lighting system that can add a touch of elegance to your home office.