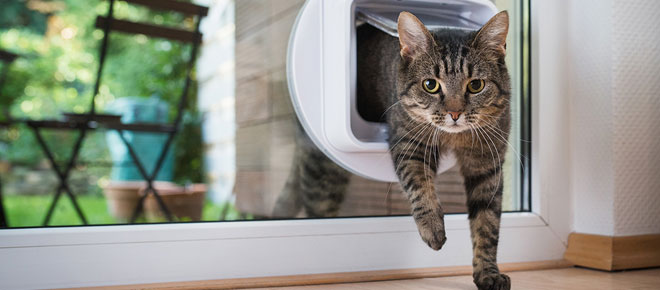 Keeping your pet safe and happy is a top priority for any pet owner. Smart pet tech can help you achieve this goal by providing you with tools to monitor your pet's activity, health, and location. From GPS trackers to smart feeding systems, there are a variety of smart pet devices available to meet your needs. By using these technologies, you can keep tabs on your pet's well-being even when you're not at home. With smart pet tech, you can rest easy knowing that you're doing everything you can to keep your furry friend safe and happy.
Auto Feeders and Waterers
When you're busy with work or a full-time schedule, it can be hard to keep track of your pets. Thankfully, there are now a variety of automatic feeders and waterers that make it easier to keep your animals fed and hydrated when you're away from home.
Smart feeders can be programmable, timed, or Wi-Fi-enabled to dispense food at the exact times you set them for. They also come with features like portion management and a slow feed option that can dispense larger amounts of food over a while to prevent digestive issues.
The PetSafe carousel is an easy-to-use, sturdy automatic feeder that can be programmed to dispense meals up to 12 times a day. It also has a "Slow Feed" feature, which allows you to set meal sizes up to 1/8 cup in increments of 15 minutes.
Another feature is a low and empty food sensor that will notify you via an app if your pet has run out of food. Its Amazon Dash Replenishment feature can also help you reorder your dog or cat's food before it runs out.
This gravity-style feeder is a self-dispensing system that can dispense dry and semi-moist pet foods as well as water for your dog or cat. Its stainless steel base makes it durable and easy to clean. It is also weatherproof and may be used inside and outside.
It is a great way to keep your dog or cat healthy and happy while saving you time. It dispenses one gallon of dry food and two liters of water per day and is easy to refill. It is made of heavy-duty steel and can be mounted on the wall or fence.
For water, we recommend the Zon Tech gravity-style waterer and feeder. It dispenses water and dry food, has an extra-wide mouth for pouring 1 gallon of dry food and 1.3 liters of water, and is made with premium quality materials. It is also dishwasher-safe and has non-skid rubber feet to secure it in place.
It is important to keep in mind that an automatic feeder or waterer isn't 100% foolproof, and there's always a chance it will malfunction or break down. It is also important to remember that they do not replace you as a pet parent and should be used sparingly.
Interactive Treat Dispensers
Treat dispensers are a great way to keep your pet engaged, entertained, and stimulated when you're not home. They're also a good way to help your pet's developmental skills through play.
Unlike standard bowls or treats, treat dispenser toys dispense small units of food that engage your pet's mind. They're also helpful for slow-feeder dogs that may otherwise wolf down too much food in one go, wasting it and risking a stomachache.
PETstock offers a wide range of pet products at affordable prices. You can use PETstock Coupons to save even more on your pet tech and food purchases. Check out their website for current deals and promotions. They have a great selection of budget-friendly pet tech and foods that your furry friend will love.
You can buy many different types of interactive treat dispensers. Some even come with a built-in camera to give you a live feed of your dog. Others dispense treats remotely from a phone or tablet.
The Wopet smart treat dispenser is a great option for pet owners who want to check on their pets without having to leave their houses. It connects to WiFi using a cloud server so you can monitor your pet from any location. It also includes a backup battery so it will stay online in the event of a power outage.
Its app allows you to record a video, capture a photo, and toss a treat. You can even turn on two-way audio so you can reprimand your dog or talk to them.
These devices are a great alternative to traditional treat toys for dogs that aren't fond of them or won't play with them. They're also a great tool for helping dogs that are suffering from separation anxiety.
They're also a great way to check in on your pets when you're away from home, especially if you have a busy schedule or live in an apartment building. You can also use these devices to track your pet's daily activity, including calories burned and distance walked.
It's a good idea to wash and treat dispensing toys regularly because bits of food can stick in crevices and surfaces and create a breeding ground for bacteria and mold. You should also choose an interactive toy that's durable enough to withstand your dog's gnawing.
Monitoring and Tracking Devices
Smart pet tech solutions can help pet owners keep their pets safe and happy. From automatic feeding and watering devices to monitors for monitoring your pet's health and activity level, this category of smart products is growing in popularity.
With the rise of IoT technology, many different types of smart devices for pets are now available. These include smart collars, wearables, and toys that are connected to a mobile app. These devices are also able to track your pet's health and location, as well as identify them.
If your pet needs special medical attention, several types of wearable devices can be used to alert you of any issues. These are often called "pet wearables" or "paw wearables."
In addition to providing a way to monitor your dog's or cat's health and activity levels, these types of wearables can also help you stay connected with your pet while you are away from home. You can even use these wearables to send your vet important information about your pet's health and behavior, so you can better understand how to care for them.
Another type of smart pet tech device is a monitoring and tracking camera that can help you keep an eye on your pet from anywhere in the world. These devices feature HD video, motion-activated alerts, and two-way communication capabilities. Some even offer treat dispensers and attached laser toys that you can control from your phone.
The market for smart pet tech is expected to grow at a CAGR of 6% during the forecast period. This growth is driven by the increasing demand for intelligent, technologically-enabled solutions for pets and the rising awareness of pet welfare.
These products can track your pet's health, activity, and location by connecting to the internet via a smartphone application. They are also able to provide you with real-time updates on your pet's movements, and they can be customized to fit your needs.
There are a wide variety of devices in this category, so it's important to choose the right product for your needs. You should consider whether you're looking for a device that can be worn or not, as well as the size and features of the device. In general, smaller devices will be less expensive and easier to install than larger ones.
You can find budget pet products using a Pet Promo Code on various websites that offer discounts and deals on pet supplies. Some popular websites to check out include Chewy, PETstock, and Petsmart. Make sure to use the promo code at checkout to get the best deal possible.
Ball Launchers
Automatic ball launchers are a great way to keep your pet fit, healthy, and entertained without the hassle of throwing balls yourself. They also provide great mental stimulation and training benefits, making them a must-have for every active dog owner.
The best auto dog ball launchers for dogs will have a wide range of settings to accommodate all sizes and play areas. This includes distance and ball angle options, as well as safety sensors to ensure your dog's safety while playing with the device.
iFetch is one of the pioneers in interactive ball throwers, and they have a range of models designed to launch 1.5" mini tennis balls at adjustable distances. These launchers are a great option for small to medium-sized dogs, and they can even be used with regular tennis balls if you prefer.
This model also features a motion sensor to protect pets and people from the ball hitting their faces, and it comes with an automatic rest mode after 15 minutes of playtime. This feature is especially helpful for fetch-obsessed pups that could easily wear themselves out if you're not watching them all the time.
In addition, iFetch's ball thrower can be adjusted to various heights and angles to give your dog even more control over the launching process. The company also offers an app that lets you control the device from anywhere using a smartphone or tablet.
I also like that iFetch has multiple distance settings for your dog to choose from and that it has an adjustable motion-sensing sensor that prevents the device from firing balls when you or anyone else is within 7 feet of the launcher's front face. Finally, iFetch's launcher is a great choice for smaller dogs that are less likely to choke on their tennis balls.
Another great option is the AFP Automatic Dog Ball Launcher, which has received positive reviews from happy owners and works well with a variety of different types of balls. It's easy to use – just plug it in and insert six C batteries, load the balls into the hopper, and press the power button.
Conclusion
Smart pet tech solutions can help pet owners keep their pets safe and happy. Another type of smart pet tech device is a monitoring and tracking camera that can help you keep an eye on your pet from anywhere in the world. Automatic ball launchers are a great way to keep your pet fit, healthy, and entertained without the hassle of throwing balls yourself.