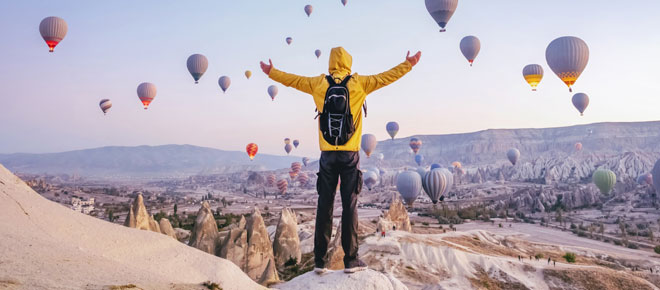 When it comes to boundary-pushing adventures, there are plenty of options out there. From awe-inspiring parks (we're looking at you, Acadia National Park) to mountain biking and camping, here are 5 of the best destinations for adventurers.
The Galapagos Islands lure wildlife-loving clans in search of one-of-a-kind encounters with giant tortoises and sea lions. Intrepid Travel's eight-day Galapagos Family Holiday trips begin at $2,680.
Costa Rica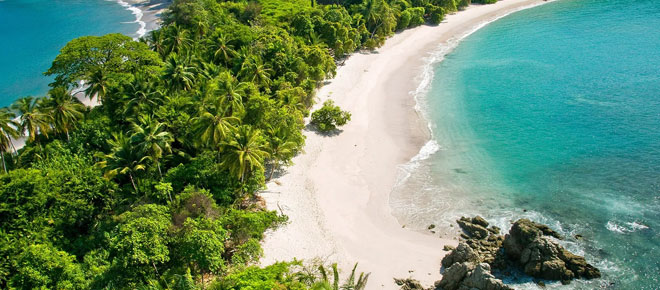 While Costa Rica may be one of the most popular (and tourist-friendly) adventure travel destinations, it's also packed with wildlife and natural wonders. About 30 percent of the country is reserved for national parks, reserves, and refuges, making it a haven for 500,000 different animal species. Go whitewater rafting down pristine rivers or glide through the rainforest canopy on zip lines. Costa Rica is a great place to explore the biodiversity of the Earth's ecosystems on a guided tour, or simply spend your days lounging on the beach and looking for howler monkeys or hummingbirds at your own pace.
Hiking in the mountains is a must-do for every nature lover, and Costa Rica offers some of the best opportunities on Earth. Wander among the boiling mud pots and steaming fumaroles of Volcan Rincon de la Vieja; get up close to the lava flows at Arenal; or hike to the crater of Irazu, a dormant volcano that rumbles with an unending power.
Canyoning is another fun activity for nature lovers in the mountains of Costa Rica. These natural obstacle courses are filled with rappels, cliff jumps, and walking bridges that make for a thrilling outdoor adventure.
Waterfalls are also a major draw in Costa Rica. Some of the country's most famous are at the Rio Celeste and Tenorio Volcano National Parks, but there are plenty more hidden gems worth a detour. The Rio Fortuna waterfall near Arenal requires a little bit of a trek, but the big reveal—a gorgeous cascade that's perfect for swimming—is well worth it.
Stand-up paddle boarding is a popular pastime in Costa Rica, and it's an amazing way to experience the ocean's beauty and wildlife. Many tours will take you to a secluded beach for a chance to see sea turtles or a school of fish hiding in a crevice, while other trips will take you through a protected bay to explore the marine life up close.
The Galapagos Islands are the ultimate destination for animal lovers. This tiny archipelago of volcanic islands is home to the Charles Darwin-famous Galapagos tortoises and a plethora of other endemic critters that you can't see anywhere else on Earth.
Grand Cayman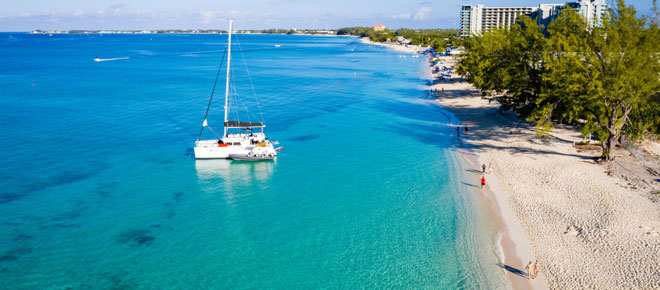 The largest of the Cayman Islands, Grand Cayman offers visitors world-class diving, beautiful beaches, and fascinating history. While the island has many high-end resorts, it also has several locally owned options and vacation rentals for those who want a more authentic Caribbean experience.
A top choice among adventure travelers is to explore the underwater treasure trove that surrounds the island. You can dive or snorkel a variety of shipwrecks, including the USS Kittiwake, which was sunk off the coast in 2011 and now forms an artificial reef teeming with marine life.
Another popular activity is to head out on a boat and cruise the waters around Grand Cayman, where you'll find several species of sharks, sea rays, and more. If you're interested in the natural environment of the Cayman Islands, you can explore their pristine forests by hiking the Mastic Trail, which runs through the island's largest nature reserve. The 2.3-mile path is a great way to enjoy the serenity of the Cayman's lush landscape and learn more about the islands' native flora and fauna.
You can even immerse yourself in the island's culture by visiting a local turtle farm, where you'll get a chance to learn more about the creatures and see how they are raised for the restaurant industry on the island. Then, you can try their tasty delicacy, turtle stew, which is typically served with plantains and cole slaw.
For those looking for a more unique experience, you can take a nighttime trip to Bioluminescent Bay, where the water glows blue in the darkness. A guided tour will help you navigate through the remarkable limestone caves of Old Man Bay, where icicle-like stalactites dangle from the ceiling. You can also dance the night away at the Wharf, where a salsa instructor gives free lessons and the backdrop is the glistening Caribbean waters. Then, you can finish off the night with a delicious meal at a nearby jerk chicken shack or conch shop. When you're planning your trip and seeking unique experiences, consider looking for deals and offers, such as Qatar Airways coupons, to make your adventures more cost-effective and budget-friendly.
Palau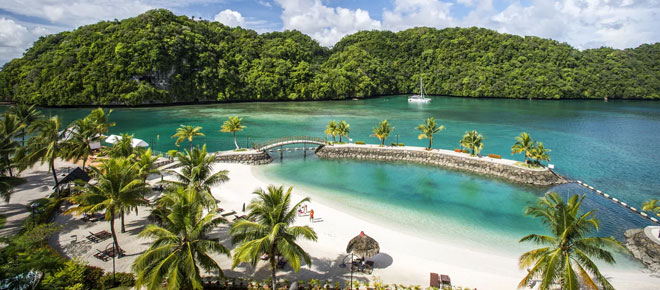 A dazzling archipelago of sparkling white sand and turquoise waters, Palau is a beach-lover dream with plenty to see beyond its shores. Take a kayak tour to explore the Rock Islands' jumble of limestone and coral pillars, or swim in Jellyfish Lake, where millions of non-stinging golden jellyfish horizontally migrate. Palau also has several WWII historical sites and traditional homes to explore, including a jungle museum on Carp Island where you can see stone money (it's huge).
The capital of this Micronesia state is Koror, which has the advantage of being the best place to get to know Palau's points of interest — it's the perfect base for exploring the archipelago and its many natural and cultural attractions. From here, you can easily take a boat to Peleliu Island for WWII history, with tanks and bunkers still lingering from some of the bloodiest battles in the Pacific. Alternatively, visit Ngerulmud on Babeldaob to witness spectacular government buildings and significant stone sights, including the Odalmelech Stone Faces and an ancient dock.
Other top points of interest include Ngemelis Wall, a drop-off famous for manta rays; the German Channel, which has a high chance of seeing sharks; and Siaes Tunnel, an underwater cave filled with stalactites. Palau's enticing beaches, spellbinding lagoons, and umbrella/mushroom-shaped islands also draw many visitors.
Another top tourist destination in Palau is Inoki Island, which boasts azure water and exotic tree-lined beaches that call out for a relaxing afternoon of sunbathing. You can also snorkel, scuba dive, and even swim in a cave here.
Getting around Palau is easy as most of the main destinations can be reached by a short ferry ride from Koror. Renting a car is also a good idea if you want to explore the islands at your own pace. This will allow you to take in more of the secluded beaches, explore the pristine forests, and even meet some of the local people. Moreover, you can visit the islands' numerous museums and learn more about their history and culture. Most of the restaurants and travel agencies in Palau will provide you with free pick-ups and drop-offs if you book tours with them. When you're planning your trip to Palau and looking for convenient ways to get around, consider looking for deals and offers, such as a Travel Promo coupon, to enhance your travel experience while staying within your budget.
Bute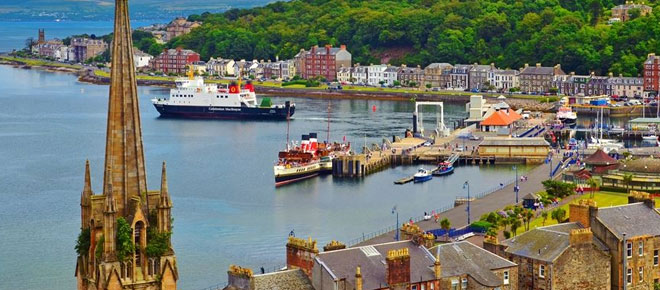 The Albanian Riviera offers awe-inspiring beaches and crystal-clear waters that are perfect for swimming, snorkeling, or simply enjoying the feel of sand between your toes. Thrill-seekers can also enjoy the thrill of exploring underwater caves and shipwrecks or sea kayaking along the pristine coastlines.
Located in southern Albania, Bute is the gateway to some of the best beaches and historical sights in the country. It is a great destination for those seeking to avoid the more touristy beach destinations, but still want a beautiful place to relax and soak up the sun. There are several great restaurants and bars to enjoy, as well as the impressive castle that overlooks the city.
One of the most popular things to do in Bute is to visit the National Museum of Photography. This impressive museum showcases the work of the Marubi family, a talented clan whose images capture village life in the past. The collection includes some stunning sepia pieces and is worth a look.
Berat is another UNESCO World Heritage city that is well worth a stop. Often referred to as the "city of 1000 windows" because of the symmetrical openings in each building, it is a beautiful sight and very charming. The castle is also worth a visit, and it is unique in that people still live within the walls. Two days in the city is enough to explore all that it has to offer.
Korce is a lesser-known city in Albania that should not be missed. The streets are charming, and there is a lovely mosque. It is also a good base for day trips to some of the nearby towns and beaches. The slender lake of Lekuresi is particularly beautiful and is surrounded by mountains and olive trees.
Himara is another great beach destination that is less crowded than the likes of Ksamil in the height of summer. The town itself is small, and there are a few nice restaurants on the boulevard. A visit to Bunkart 2 is also a must and is an incredible experience that takes you through the former communist bunker of Enver Hoxha.
conclusion
adventure travelers have a vast array of destinations to choose from, but these top five must-visit locations stand out for their unique experiences and breathtaking scenery. Whether you're seeking a thrilling outdoor adventure or a chance to immerse yourself in a new culture, these destinations offer something for everyone. From the rugged landscapes of Patagonia to the vibrant markets of Marrakech, these locations are sure to satisfy even the most intrepid of travelers.