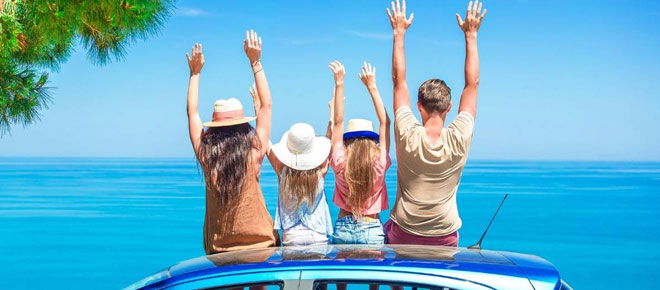 A family vacation can be a fun and rewarding experience for everyone. However, many factors need to be taken into consideration before you can truly enjoy your trip.
One of the most important factors is to plan. You will need to create a budget, book excursions in advance, and more.
Create a Budget
Creating a budget is a crucial first step in planning the perfect family vacation. Using the resources available online, you can build an initial budget to help you plan your trip and stay within your financial means. By reducing unnecessary expenses and saving each month, you can easily create a budget that will allow you to enjoy your trip without worrying about the cost.
You may also want to consider using credit cards that have rewards programs to help offset the costs of your vacation. These cards will often earn you points that can be redeemed for flights, hotel rooms, and even gift cards or cash back. If you plan your trip well in advance, you can even earn enough points to cover the entire cost of your trip!
When creating a budget, it's important to keep in mind the needs and wants of each family member. For example, if you have children, you may want to include activities that they will enjoy. This will make the trip more enjoyable for everyone, and it will be a memorable experience for years to come.
Additionally, you should try to plan your vacation during the off-season to reduce costs. This is when you can find great deals on airfare, hotels, and food. You can also save money by visiting attractions and taking tours during the off-season.
Finally, you should create an itinerary that includes a mix of activities for both adults and kids. This way, everyone will have something to do and you can avoid the dreaded "vacation cranky." It's also helpful to prepare for the possibility that things won't go exactly as planned. The best-laid plans of mice and men often go awry, so you should be prepared for anything.
Book Excursions in Advance
A successful family vacation requires a good balance of activities and downtime. Too many activities can cause tired, cranky kids, and too little will bore them. To avoid this, it is important to book excursions in advance as much as possible. This will allow you to find out what is available for your kids' age range, and what your budget can afford.
If your kids are old enough, involve them in the planning process and let them suggest the types of activities they want to do. This can be a fun and rewarding experience for everyone. It can also be a great way to create memories for them that they will treasure for years to come.
Besides activities, you should also plan out your itinerary and how long you'll spend in each location. This will help you determine the best places to visit. It will also help you avoid wasting time and money on things that aren't worth it.
Make sure to check out what's available in your destination of choice, and book any tickets or reservations in advance. This will save you a lot of stress and will ensure that your trip goes smoothly. Also, remember to pack the essentials, such as swimwear and clothing, as well as any special toys or games that your kids enjoy playing.
If your kids are old enough, consider arming them with a camera or smartphone so they can capture their memories of the trip. This can be a fun and engaging activity for the entire family, and it will give you unique photos that you can share with others. In addition, it can also be a great way to encourage your children to learn more about the places they are visiting. When planning your family trip, keep an eye out for Qatar Airways Coupon Codes to save on your travel expenses, especially when booking flights to your chosen destination.
Plan Activities for Everyone
A family vacation can be an unforgettable experience that brings joy to every member of the household. It can also be a time of frustration, especially if you're not prepared for the unexpected. Fortunately, with the right planning, your next family trip can be nothing short of perfect.
One of the most important aspects of planning a family vacation is creating activities for everyone to enjoy. Whether you want to go to a theme park, see local sights, or just lay out on the beach and relax, you need to find things that your entire family will enjoy. If you're on a budget, consider staying at a resort that has specific activities for children, such as a kids club with activities that are tailored to their age group.
You can also plan your family trip to avoid high season, which means fewer crowds and better prices on everything from airfare to hotel rooms. This is a great way to ensure that your entire family will enjoy the trip and create lasting memories.
Once you have a schedule in place, start collecting things that you and your family will remember from the vacation, such as postcards, ticket stubs, souvenirs, and even jars of sand or dirt from a special destination. Creating a memento package like this is a great way for children to keep the memories of their vacation long after it has ended, and it's a fun activity to do together.
It's also a good idea to limit how many activities you schedule per day. Too much can cause exhaustion, and a tired family will not have the energy to enjoy their surroundings and each other's company.
Create a Schedule
Traveling with the family can be a wonderful experience, but it can also be stressful. The best way to avoid stress is to create a schedule in advance, including all activities and responsibilities that will need to be addressed while you are away. This will help you to make sure that everything runs smoothly, and it will prevent any unexpected problems from occurring.
To create a schedule, start by listing all of the activities that you want to do on your vacation. Then, list the costs associated with each activity, including transportation (airplane tickets or train passes), accommodation, food, and entertainment. This will give you a clear picture of how much your trip will cost and allow you to plan accordingly.
When creating a schedule, be sure to include downtime days as well. This will help everyone to relax and recharge, and it will also ensure that you don't over-schedule your vacation. Over-scheduling can be a recipe for exhaustion, and it will cause you to miss out on some of the most memorable experiences.
Once you have created a schedule, be sure to put it in your calendar system so that everyone can see it. This will ensure that no one forgets about it, and it will also allow you to rearrange any responsibilities that need to be addressed while you are away. Also, be sure to take into account any upcoming events that may occur during your vacation, such as a wedding or a big game. This will help you to determine when the best time to travel is and whether or not you need to make arrangements for childcare or pet sitting.
Plan for Downtime
One of the biggest mistakes that people make on family vacations is trying to pack too much into every day. Doing too many activities and sightseeing can leave your whole family exhausted and cranky, which will sour the experience. If possible, try to spread out your big adventures throughout the week so that you have some time between them to relax and recharge.
Taking breaks and allowing your family to rest can make a huge difference in their enjoyment of the trip. It can also help to have some downtime in the form of a game of cards, a movie marathon, or just some quiet time to relax by the pool. If your children are old enough, they can keep a travel journal or scrapbook where they can write about their experiences and stick in mementos like postcards and ticket stubs from the trip.
Another way to encourage relaxation during your trip is to limit screen time. This can be hard for some families, but it can help everyone stay focused and present during the vacation. This can be especially helpful on long flights or car rides when the kids may get antsy.
The key to the perfect family vacation is having fun together. Although there will be mishaps and meltdowns, these moments are part of the experience and can make for some great memories down the road. By following these tips, you can have a great vacation that will provide a lasting memory for your entire family. Enjoy! When planning your family vacation, keep an eye out for Travel Coupon Codes to save on your travel expenses, especially when booking flights to your chosen destination.
Conclusion
planning the perfect family vacation requires careful consideration of everyone's interests and needs, as well as a thorough understanding of the destination and its attractions. By setting a budget, researching accommodations and activities, and communicating openly with family members, you can ensure a fun and stress-free trip for all. Remember to leave room for spontaneity and flexibility, and most importantly, cherish the time spent with your loved ones.